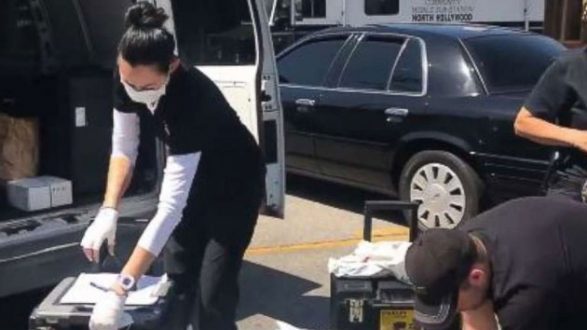 @LAPD/Twitter (LOS ANGELES) — A Los Angeles man has been charged with murder after a fire killed two people and seriously injured two others at a music studio on Saturday.
The Los Angeles Police Department said Eferem Demery, 28, was arrested Saturday and charged on Sunday with murder. Police said further information on the arrest would be provided in a news conference on Monday afternoon.
"At this point in time we don't know the cause of the fire, but we will investigate it, which will probably take several days to determine," LAPD Capt. William Hayes said.
The fire broke out Saturday morning at Top Notch Recordings, a music studio across the Hollywood Freeway from Universal Studios Hollywood amusement park.
Los Angeles ABC station KABC identified one of the people killed in the fire as Devaughn Kemar Carter, 28, of Los Angeles.
Singer L.A. Pryce, who was in the studio at the time, said he was nearly killed, but thankfully woke up in time to get out.
"I could have died," Pryce told KABC. "If I wasn't in the light sleep that I was, I could have died. Period."

Copyright © 2018, ABC Radio. All rights reserved.