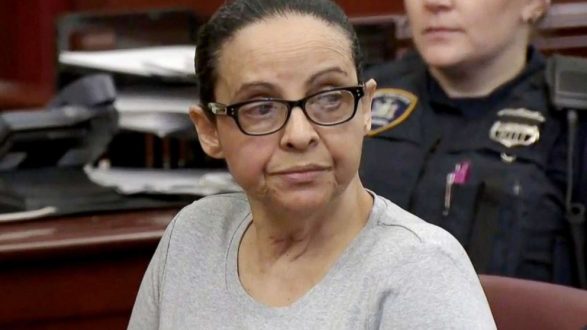 WABC-TV(NEW YORK) — It will soon be up to a New York City jury to decide if a nanny accused of stabbing two young children to death is guilty of murder or not guilty by reason of insanity.
Yoselyn Ortega is accused of killing 6-year-old Lulu Krim and 2-year-old Leo Krim at the Krim family's idyllic Upper West Side apartment on Oct. 25, 2012.
Ortega, who worked for the parents Marina and Kevin Krim for two years, was charged with two counts each of first-degree murder and second-degree murder and pleaded not guilty by reason of insanity.
Kevin Krim was in the courtroom as prosecutor Stuart Silberg gave his closing arguments today.
In the Krims' bathroom that day, Lulu, the first to be attacked, "twisted and turned and did everything possible" to stay away from the point of the knife, Silberg said. But Ortega was "determined to end her life" and cut her throat, Silberg said. Lulu suffered about 30 different stab and slashes, prosecutors said.
Then Ortega allegedly targeted 2-year-old Leo.
"From the attack on Lulu, she had learned that if she comes at the child from the front with the knife, she's going to end up in a death struggle," Silberg said. "So this time, having learned what it takes to more efficiently kill a 2-year-old, wanting to cut his throat, the better way to do it … is to come from behind."
Silberg said Ortega "put the knife into his neck… so deep that it almost reached his spine."
After the children's mother came home, Ortega plunged a knife into her own throat.
Silberg argued Ortega had a "purposeful, intentional" plan and a "full understanding of the nature and consequences of her actions."
Silberg said some of Ortega's actions earlier that day prove the crime was premeditated and that she had planned to not come home: 1. Silberg said Ortega left a purse with family heirlooms in her son's bedroom; 2. Silberg said Ortega left an envelope with identification and insurance papers for her sister; 3. Ortega allegedly told her sister to raise her son well, he said.
But defense attorney Valerie Van Leer-Greenberg said in closing arguments today that Ortega is mentally ill and was "suffering from severe psychosis" and "dissociation" the day of the killings.
Van Leer-Greenberg said her client — who had no prior criminal record and did not use drugs — had "no agenda."
Van Leer-Greenberg argued "her mind and her body separated" and she "lacked the capacity to form intent."
Van Leer-Greenberg argued Ortega was "slowly disintegrating" but "kept it inside," because she didn't want to lose the babysitting job.
The defense attorney also claimed Ortega "loved" the Krim family, adding that "love is shown in many different ways."
Van Leer-Greenberg said the birthdays of the Krim family members were marked in Ortega's calendar, which she called "a manifestation of care and love."
"The tumble into mental illness … can sometimes look like no change at all," Van Leer-Greenberg said. "Mental leakage or collapse does not announce itself like a bad cough or a constant limp. Sometimes it sneaks up and nestles deep within before anyone else takes notice.
"Though her family knew well of her moods, depression and headaches," Van Leer-Greenberg said of Ortega, "the defense has proven that her family underestimated" the "strength" of her "demons."
Silberg, however, said mental illness alone doesn't excuse responsibility for murder and said Ortega was not in a mental state that would excuse her conduct.
After Ortega repeatedly slashed and stabbed the children in the bathroom, she carefully laid their bodies down, Assistant District Attorney Courtney Groves said in opening statements last month.
When Marina Krim came home after taking her then-3-year-old daughter, Nessie, to a swim class, she opened the bathroom door and found "the bloodied, lifeless bodies of her 6-year-old daughter and 2-year-old son … their eyes open, covered in blood," Groves said.
Ortega, who was standing in the bathroom, then stabbed herself in the neck, according to Groves.
Marina Krim grabbed Nessie and ran out of the apartment and the doorman called 911, prosecutors said. Marina Krim, who testified for the prosecution, said that moment she was screaming uncontrollably and saying, "I just saw my kids dead."
"I was destroyed," Marina Krim said on the stand. "She killed my best friends."
Copyright © 2018, ABC Radio. All rights reserved.