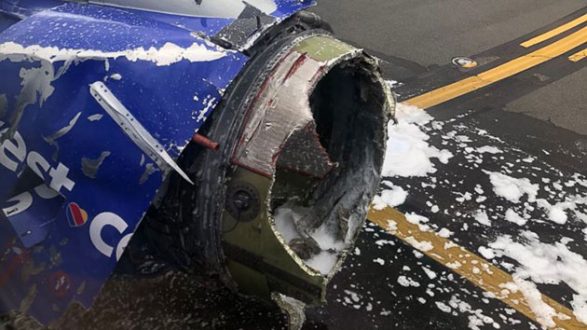 Joe Marcus/Twitter(NEW YORK) — A retired nurse was among those on Southwest Flight 1380 who tried in vain to help save a New Mexico woman on Tuesday.
Peggy Phillips was one of several passengers who said they saw Jennifer Riordan partially sucked through a window after an engine exploded and the plane had to make an emergency landing.
Phillips said two other passengers managed to pull the woman back into the aircraft.
"We did CPR on this lady," Phillips told ABC affiliate WFAA-TV on Tuesday, adding, "A window had broken, and the suction — the negative pressure — had pulled her outside the plane partially," Phillips told ABC affiliate WFAA-TV on Tuesday.
"We laid her down and we started CPR," Phillips said. "We continued that for about 20 minutes. We landed while we were still doing CPR."
Southwest confirmed that a woman died on board in a "tragic event," but the airline hadn't yet said how Riordan died. The NTSB and the FAA are investigating the incident.
Phillips said shortly after takeoff "we heard a loud noise and the plane started shaking like nothing I've ever experienced before. It sounded like the plane was coming apart, and I think we pretty quickly figured out that something happened with the engine."
"We started losing altitude, the mask came down, people were putting on their masks, and basically I think all of us thought this might be it," she added. She managed to stay calm until she heard the window break about four rows behind her.
"It was a lot of chaos back there — a lot of really upset people and a lot of noise, and a big rush of air, a big whoosh of air," Phillips continued. After a flight attendant asked if anyone knew CPR, Phillips said, "I was, like, out of my seatbelt."
Southwest Airlines Chairman of the Board and CEO Gary Kelly commended the plane's crew for its quick action during a press conference on Tuesday.
"They did their jobs superbly," Kelly said. "This is a sad day, and our hearts go out to the family and loved ones of the deceased customer."
Copyright © 2018, ABC Radio. All rights reserved.