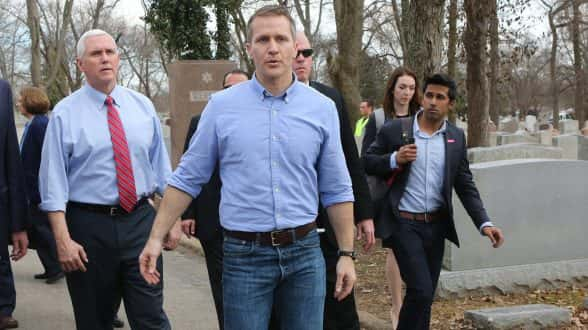 J.B. Forbes/St. Louis Post-Dispatch/TNS via Getty Images(ST. LOUIS, Mo.) — A bipartisan committee investigating Republican Missouri Gov. Eric Greitens released a document knocking down his attempt to discredit a hair stylist who claims he allegedly coaxed her into having sex and tried to use partially nude photos of her to blackmail her.
The Missouri House Special Investigative Committee on Oversight released a four-page report contradicting a statement Greitens posted on Facebook in which he claimed the woman "never once mentions any coercion" in her videotaped interview with the St. Louis Circuit Attorney prosecuting him on felony charges of invasion of privacy.
The committee, however, found the woman to be a credible witness and in its report made public Monday said that has not changed.
"The committee does not find anything in the circuit attorney interview that causes it to change its statement regarding Witness 1's credibility," the committee, comprised of five Republicans and two Democrats, wrote in a supplemental report.
"Greiten's claims about the content of the circuit attorney interview mischaracterize the actual testimony received and reviewed by this committee."
Greitens is scheduled to go on trial in St. Louis in May on felony charges of invasion of privacy, stemming from allegations he threatened to release partially nude photos of the woman if she did not stay quiet about an affair they were having.
In an April 12 Facebook post, Greitens wrote, "The House report contained explosive, hurtful allegations of coercion, violence, and assault. They are false. Those allegations can be refuted with facts."
He continued: "In the video, the woman talks for almost two hours, and never once mentions any coercion. In the House report, there is a false allegation that I slapped the woman. That allegation had been made once before, and it was disproven. The story changed, so I will say again: It did not happen."
In the supplemental report released this week, the committee published excerpts from the woman's testimonies to the committee and the circuit attorney about a sexual encounter with Greitens at his home on March 21, 2015 — about 19 months before he was elected governor.
Greitens, a married father of two children and a former Navy SEAL, ran for governor on a platform of family values.
In her testimonies, she claimed that Greitens blindfolded her and bound her hands with tape to pull-up rings before he allegedly ripped open her shirt and pulled her pants down. She claimed she then heard what sounded like a picture being taken.
She testified that Greitens later told her, "Don't even mention my name to anybody at all because if you do, I'm going to take these pictures, and I'm going to put them everywhere I can."
The woman, whose name has not been made public, testified that she was "crying, like, hysterically" on the floor of Greitens' basement when he undid his pants and she performed oral sex on him.
"I just felt like, I'm going to do this and he'll be satisfied," the woman testified.
Referring to the sex act in her testimony to the circuit attorney, she added, that Greitens was "just really coaxing me like like a wounded little animal on the ground."
In similar fashion, she testified in a closed-door meeting with the committee, saying, "Coerced, maybe. I felt as though that would allow me to leave."
In an earlier statement, Greitens said, "This was an entirely consensual relationship, and any allegation of violence or sexual assault is false."
Asked if she believed the sex with Greitens was consensual, the woman told the committee, "It's a hard question [on consent] because I did it — it felt like consent, but no, I didn't want to do it."
Greitens has described himself as the victim of a "witch hunt" and has refused to testify before the committee. He has denied blackmailing the woman with photos.
After a judge denied his motion on April 19 to dismiss the charges, Greitens said in a statement, "A court of law and a jury of my peers will let every person in Missouri know the truth and prove my innocence."
Copyright © 2018, ABC Radio. All rights reserved.