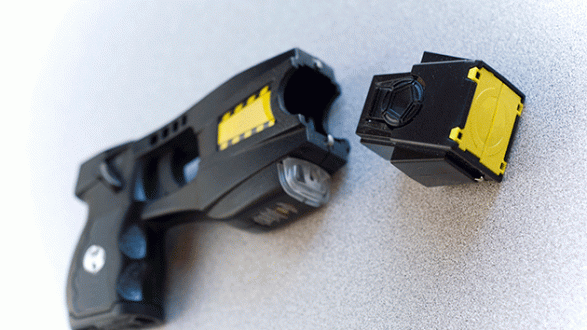 iStock/Thinkstock(NEW YORK) — Police in Tennessee used a stun gun on a hospital nurse who they say refused to comply when medical officials asked him to leave the facility's emergency room, according to court documents.
Roger Davis, a nurse at Erlanger Hospital in Chattanooga, Tennessee, faces charges of assault, resisting arrest and disorderly conduct in the wake of the April 26 incident, which police say turned violent when the 42-year-old nurse started yelling and swinging at the officers, punching one in the lip, according to a charging affidavit.
Chattanooga police officer Sarah Rogers said she and her partner, referred to in the document as "Officer Woody," arrived to the hospital after getting a call about an employee who had refused to leave, despite being asked to do so by medical staff and the hospital's vice president.
Once on the scene, Rogers said she asked the employee, Davis, to speak more softly, warning him that she would have to ask him to leave if he continued to yell.
Davis responded, saying "Then do it," to which the officer replied, "OK, leave the building," the affidavit said. But Davis stood still and just stared at the officer. The officer says she asked him to leave more than once, according to the affidavit.
"At this point I placed my hand on his arm to escort him out the door. As I did this, Mr. Davis started swinging his arms in an attempt to keep me from making him leave," the responding officer said. "I attempted to take Mr. Davis into custody. Mr. Davis continued swinging his arms and fists at one point punching Officer Woody in the face busting his lip."
Rogers said she and her partner continued to command Davis "put his hands behind his back and to quit fighting the police," but Davis wouldn't comply, and even told officers, at one point, to "go ahead" and use a stun gun on him.
Rogers says the officers tried using another "take-down technique" to put him into custody, but that effort was unsuccessful.
"I pulled my Taser. I placed it on Mr. Davis' chest and advised three times if he would not stop resisting … I would deploy my Taser," Rogers said, adding that she ended up triggering the device once. "Mr. Davis finally rolled over on his stomach and we were able to place him into custody."
The hospital confirmed the incident in a statement on Monday and thanked the officers for "containing the situation."
"Erlanger would like to thank our associates, security and the Chattanooga Police Department for containing the situation that occurred on the evening of April 26," Erlanger spokeswoman Jennifer Tittsworth told ABC affiliate WTVC in a statement. "Because of their diligence, patient care in the emergency department was in no way impacted as a result of this isolated incident."
Copyright © 2018, ABC Radio. All rights reserved.