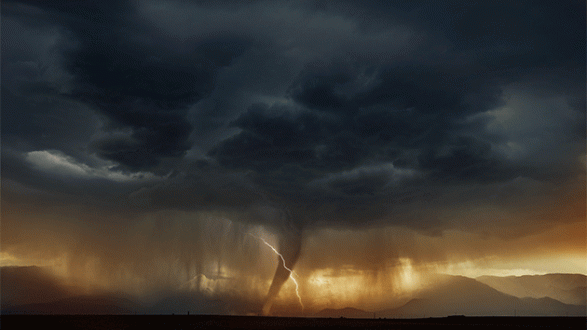 iStock/Thinkstock(NEW YORK) — A strong and slow-moving storm system has already brought a first round of severe weather to the Great Plains. Another round will bring an increased threat of severe weather, including tornadoes, to more heavily populated areas on Tuesday.
Severe storms fired up in parts of Texas, Kansas and Nebraska on Monday evening with nearly 20 reports of hail, some the size of golf balls, covering the ground in parts of Nebraska.
Over 25 million Americans in the central U.S. are at risk for severe weather over the next three days and some of this severe weather could be significant.
The severe threat begins to ramp up significantly Tuesday. There is a slight risk for severe storms from Woodward, Oklahoma, to La Crosse, Wisconsin, and an enhanced risk for severe weather from central Kansas to southern Iowa. Damaging winds, large hail and tornadoes are possible throughout this region today. The highest risk for tornadoes is in the enhanced risk region from Salina, Kansas, to Lincoln and Omaha, Nebraska.
The clash of dry air behind the system and moist air ahead of the system are the ingredients for potentially significant severe weather. The High Resolution Rapid Refresh forecast model is showing storms beginning around 5 p.m. to 7 p.m. with potentially discrete supercell thunderstorms in central Kansas and southeast Nebraska. Tornadoes are possible during this period and into the overnight hours.
On Wednesday, the threat expands and perhaps intensifies greatly. The precise magnitude and location of the most-severe weather remains questionable due to the evolution of storms overnight. Currently, a slight risk extends through much of central Texas all the way to southern Wisconsin, including Dallas; Des Moines, Iowa; and Milwaukee. The large enhanced risk region extends from Texas to Missouri and includes major cities such as Oklahoma City; Wichita, Kansas; and Kansas City, Missouri.
Damaging winds, large hail and strong tornadoes will be likely. The best chance for tornadoes will be in the enhanced risk region and tornadoes that do occur could be intense.
On Thursday, the threat slowly moves and expands east. At present, the threat looks a little bit less robust by Thursday, but damaging winds, large hail and brief tornadoes will be likely from Waco, Texas, to Peoria, Illinois.
It is also worth noting that Oklahoma and Kansas have not seen a tornado so far this year. This feat is a new record in Oklahoma and ranks among the latest tornado seasons in Kansas, too.
Summer-like weather arrives East
Meanwhile, east of the severe storms, very warm air is surging into the Midwest and Northeast. For parts of this region, this is the warmest air mass in nearly six or seven months.
Minneapolis reached 80 degrees on Monday, the first time since September. Chicago reached 80 degrees on Monday, the first time since October. Milwaukee is celebrating reaching the 70-degree mark, their latest 70-degree reading since 1992.
Tuesday the warmth finally moves into the Northeast. After a cool April morning in the I-95 corridor, temperatures are going to rise into the 70s for most, including New York City, Philadelphia and Washington, D.C. For some of this region it will be nearly 25 degrees warmer today than it was Monday. Temperatures from the Midwest to much of the Northeast will be nearly 10 to 15 degrees above average.
This is the beginning of a few warm days in the Northeast. By the end of this week, temperatures in the entire I-95 region will be nearing the upper 80s — with 90-degree readings possible locally. This has the potential to be the warmest air mass this region has seen since September of last year.
The combination of very warm temperatures, plenty of sunshine and relatively comfortable dew points will make the next few days spectacular in the Northeast.
Copyright © 2018, ABC Radio. All rights reserved.