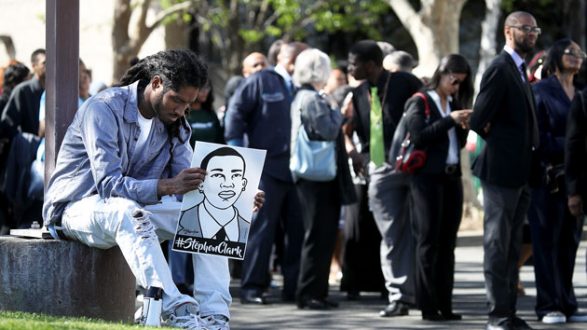 Justin Sullivan/Getty Images(SACRAMENTO, Calif.) — Stephon Clark, an unarmed black man shot late at night by police while standing in his grandmother's yard, absorbed seven bullets, not eight, according to the County of Sacramento coroner's office.
In an autopsy report dated April 27, three doctors concluded Clark took three bullets in the back. An earlier private autopsy said Clark was shot six times in the back and eight times total.
The Department of Coroner report did confirm that the cause of death was "multiple gunshot wounds."
Clark was shot on March 18 when officers were responding to an emergency call that someone in the 7500 block of 29th street was breaking car windows.
When the officers confronted Clark, they said they believed he was armed and fired 20 rounds at him.
He was holding a cell phone.
Copyright © 2018, ABC Radio. All rights reserved.