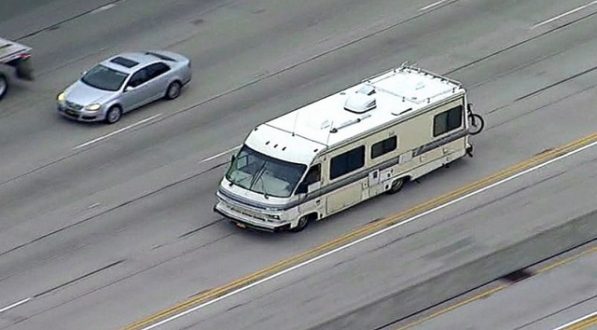 KABC(BAKERSFIELD, Ore.) — A registered sex offender remains at large but his two young children and the family dog that he absconded with were found safe, following a nearly four-hour long pursuit of the man's RV that began in Los Angeles and ended in an orchard in Bakersfield, California.
Police believe that Stephen Houk, 46, abandoned his RV in the desolate Bakersfield, California, orchard and fled on foot.
The orchard was cordoned off and searched for several hours, but authorities found no trace of Houk – who is considered by police to be armed and dangerous, according to a release from Los Angeles County Sheriff's Department press release.
Both the children and the dog "were located unharmed inside the pursuit vehicle" in Bakersfield around 6 p.m., authorities said. Police tweeted photos of them reunited with their mom.
Houk, a registered sex offender in Oregon, was on parole after a sex offense conviction when he allegedly kidnapped the children, a 3-year-old and an 11-month-old infant.
ABC-owned station KABC reported on Wednesday that the previous day's pursuit was the second one involving Houk, and that an earlier chase in Santa Clarita was canceled following a domestic violence incident.
A multi-agency manhunt for Houk that included the California Highway Patrol, Kern County Sheriff's deputies and the Bakersfield Police Department continued without success until 11 p.m. Tuesday, the release said. The searched continued on Wednesday.
Copyright © 2018, ABC Radio. All rights reserved.