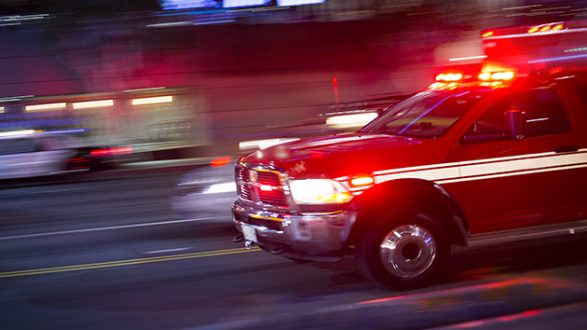 iStock/Thinkstock(NORTH HAVEN, Conn.)–Ten police officers were injured in an explosion Wednesday evening after responding to a domestic disturbance call at a Connecticut home.
Police sent a tactical team to the North Haven residence after learning that a man was reportedly barricaded inside the residence. It is unclear if the man was the homeowner.
Local station WFSB reported that police were alerted to the disturbance by the man's wife, who went to the North Haven Police Department after allegedly escaping from the home. She told police she was held hostage by her husband for three days, according to WFSB.
Teams of law enforcement officers from multiple nearby towns responded to the residence and were attempting to make contact with the unnamed man when "a large explosion occurred," the Connecticut State Police said in a news release about the incident. Police said that a number of structures caught fire in the back of the property.
All 10 officers were transported to local hospitals with non-life-threatening injuries, according to the release. Five remain hospitalized.
One body was found inside after the fire was extinguished. Police have not released the identity of the body and will do so pending a post-mortem examination and notification of next-of-kin.
A North Haven police spokesperson said that part of the ensuing investigation will include a review to see if there were any prior domestic calls made to the residence in the past.
Copyright © 2018, ABC Radio. All rights reserved.