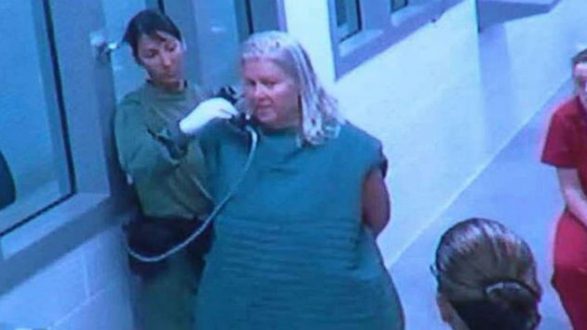 WZVN(FORT MYERS, Fla.) — The Minnesota woman accused in an alleged multistate crime spree will continue to be held without bond in Florida, where she was extradited last week after being captured in Texas.
Lois Riess waived her right to appear for her pretrial detention hearing today in Lee County in southwest Florida. A public defender, who was appointed to represent her, did not challenge a request by the Florida State Attorney's Office that she be held on no bond.
During her initial court appearance Sunday, a judge had ordered Riess remain jailed without bond before today's hearing. An arraignment hearing is slated for May 29.
The 56-year-old mother and grandmother had been the focus of a weekslong, nationwide hunt after she allegedly shot and killed her husband in their home state, before killing and stealing the identity of a woman who looked like her in another state and then fleeing across the country to a third state.
The case began in Blooming Prairie, Minnesota, where, authorities said, 54-year-old David Riess hadn't been seen in more than two weeks as of March 23, and his business partner requested that law enforcement go to his home.
There, authorities found Riess' body. He had been shot multiple times, according to the Dodge County Sheriff's Office.
It was unclear how long he had been dead, and his wife was missing, the sheriff's office said.
After Lois Riess allegedly killed her husband in Minnesota, she allegedly stole his money and then drove to Fort Myers Beach, Florida. There, she met Pamela Hutchinson, 59, and then killed her and stole her ID, credit cards and car, according to the Lee County Sheriff's Office.
Investigators said Riess targeted Hutchinson because of similarities in their appearances, and they feared she would target other women who looked like her.
On the night of April 19, U.S. Marshals deputies and local police arrested Riess on South Padre Island, Texas, according to U.S. Marshals Service spokesman John Kinsey. The South Padre Island Police Department had received a tip from a resident who recognized Riess.
She was sitting alone at a restaurant having a drink when authorities approached her and didn't appear to be surprised, Kinsey said. She was taken into custody without incident.
Investigators said there's no indication she was trying to cross into Mexico, despite being so close to the border. Authorities found two pistols in the motel room where she was allegedly staying in South Padre Island.
"This case from the very beginning struck at me as odd," Florida's Lee County Undersheriff Carmine Marceno told reporters during a joint news conference with the U.S. Marshals Service. "We look at her appearance — she looks like anybody's mother or grandmother, yet she's an absolute cold-blooded murderer."
The former fugitive was arraigned in South Padre Island April 21 and taken to a local county jail. The following week, after waiving her right to an extradition hearing, Riess was extradited to southwest Florida where she remains for the time being.
"Lois Riess will be going to Florida first while we continue to build the strongest case possible against her here in Minnesota," Minnesota's Dodge County Sheriff Scott Rose said in a statement April 25. "We will bring her back to Minnesota to stand trial when Florida is done."
The Riess family is well-known in the small community of Dodge County, the sheriff has said. Lois Riess, who has three adult children, was known to have a "gambling problem" and "financial problems," the sheriff told reporters last month, though there was previously no record of her ever being charged with a crime.
Investigators believe Riess, while on the run, was living off money she had won at a Louisiana casino, according to a source with the U.S. Marshals Service. She used her real name to claim $2,500 in winnings at the casino sometime last month before heading to southern Texas.
But the casino only noticed her name several days later while processing receipts, the source told ABC News.
Copyright © 2018, ABC Radio. All rights reserved.