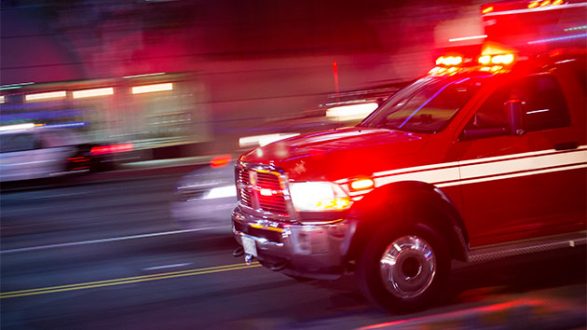 iStock/Thinkstock(NEW YORK) — As many as eight Connecticut police officers were injured in an explosion late Wednesday while investigating a potential domestic-violence situation, authorities said.
The North Haven Police Department said the officers were responding to a home where a man had reportedly barricaded himself and a woman inside. The woman had been held in the home for at least three days, North Haven First Selectman Michael Freda said at a press conference.
Officers with the department's SWAT team were working to clear the location and make contact with the man when the home suddenly burst into flames.
The officers were taken to the Yale New Haven Hospital with minor injuries, officials said. Initially, a hospital spokesperson said seven people were being held for evaluation, meaning six officers and an unidentified seventh patient.
The suspect had not been taken into custody as of late Wednesday, but authorities said there is no current threat to the public. The woman, thought to be the man's wife, managed to escape the home, Freda said.
One witness reported hearing gunshots from the home.
"We had just gotten done eating dinner, we got up, we heard the explosion, it knocked my wife to the floor," a neighbor told WTNH after the explosion. "I huddled my family into the bedroom, locked the door, and came out to see what was going on."
"You could see the house was fully engulfed, you could hear the rounds popping off, I guess he had ammunition in there," the neighbor added.
The explosion appears to have occurred inside a barn near the home that contained the man and woman.
At least 100 emergency officials, including at least 30 New Haven SWAT and Bomb Squad officers, were on the scene after the explosion. Connecticut State Police have taken over the investigation.
Nearby residents said they were ordered to stay inside their homes as a precaution.
"You could hear them every couple of minutes or so over the loudspeaker, just saying, 'John, please come to the window, please show yourself, we are here to help,'" another witness told WTNH. "You could tell they were doing everything they could to have a peaceful solution to this."
Copyright © 2018, ABC Radio. All rights reserved.