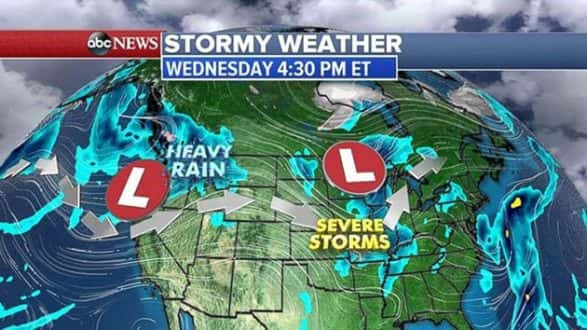 ABC News(NEW YORK) — An active jet stream moving in from the Pacific Ocean on Tuesday is bringing heavy rain and storms with it.
Strong to severe storms are possible from the Dakotas to Missouri today. The biggest threat will be damaging winds and hail, but we can't rule out a tornado or two.
On Wednesday, there is a higher threat for severe weather for parts of the Mississippi Valley from Illinois to Missouri, including St. Louis. The biggest threat tomorrow will be damaging winds, hail and a few isolated tornadoes.
Another storm system moves into the Northwest and the northern Rockies on Wednesday delivering more rain and stormy weather.
The western storm will bring heavy rain to already-flooded Montana all the way to the Great Lakes by Friday and Saturday. The worst flooding in 37 years is forecast in parts of Montana.
More flooding is possible from the Rockies into the Northern Plains.
Widespread totals of 2 to 3 inches are expected with some areas getting more than 3 inches.
Heat continues in Southwest
Triple-digit heat continues for the Southwest on Tuesday — and it's only going to get hotter.
An excessive heat watch has been issued for parts of Arizona and California as temperatures reach 105 to 110 degrees.
Las Vegas could reach 100 degrees for the first time this year today.
Copyright © 2018, ABC Radio. All rights reserved.