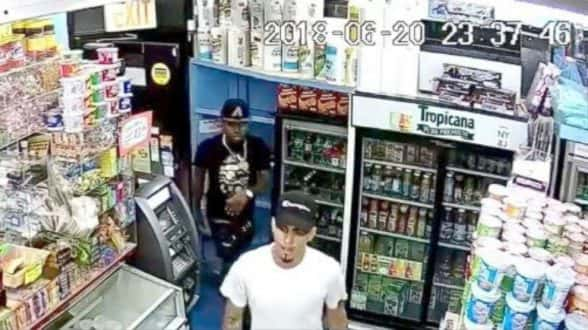 Chief Terence Monahan/NYPDChiefofDept(NEW YORK) — Twelve alleged Trinitarios gang members have been indicted on murder charges in the mistaken identity stabbing death of a 15-year-old Bronx teen that prosecutors blamed on intra-gang conflict.
Five of the defendants–Jonaiki Martinez Estrella, Antonio Rodriguez Hernandez Santiago, Jose Muniz, Manuel Rivera, and Elvin Garcia–have been indicted on first-degree murder and intentional murder which included torture, according to the Bronx District Attorney's office. They face up to life in prison.
The June killing of Lesandro Guzman-Feliz, 15 and known affectionately as Junior, shocked the community. He had wanted to be a detective and was part of an NYPD youth program.
"This was an intra-gang conflict where the defendants allegedly plotted to attack an upstart sect of the Trinitarios and allegedly committed a crime that has shocked people everywhere for its brutality," Bronx District Attorney Darcel Clark said.
Police believe they've now arrested everyone involved in the murder of the 15-year-old, who was dragged out of a Bronx bodega and stabbed with machetes and knives nearly a month ago by gang members.
"An innocent young man with a great future was unjustly targeted and brutally murdered," Police Commissioner James O'Neill said. "It doesn't matter he was wrongly targeted, or it was a case of mistaken identity. Any group of people thinks committing such an act in New York City is abhorrent at its core."
Investigators initially thought the Junior was mistaken for someone thought to be sleeping with the girlfriend of one of the gang members, but prosecutors said on Wednesday that has been found not to be true.
The defendants appeared in a courtroom packed with Junior's relatives. At one point his mother was heard yelling "asesino" — murderer — at one of the suspects.
The suspects are allegedly part of the "Los Sures" set of the Trinitarios gang. On June 20, prosecutors said, they gathered at the Boston Road home of Diego Suero, the alleged leader of Los Sures, to plan to commit violence against another set of the Trinitarios called "Sunset." The defendants then traveled in four cars, and came upon the victim, who fled from them, running approximately four blocks to a bodega in Belmont, where he tried to hide, officials said.
The defendants can be seen in surveillance footage from the store cameras entering the bodega and dragging the victim out of the store as he fought for his life. When the victim was forcefully taken from the store, five defendants repeatedly stabbed and slashed him in the neck and body with knives and a machete. The victim ran from the bodega to St. Barnabas Hospital and collapsed near the entrance.
According to prosecutors, after the stabbing, the defendants fled and went back to Diego Suero's home to hide weapons and provide aid to Elvin Garcia, whose hand was cut in the midst of the multiple stabbings the victim received. Jonaiki Martinez Estrella, Antonio Rodriguez Hernandez Santiago, Jose Muniz, Manuel Rivera, Danel Fernandez and Jose Tavarez then fled and were ultimately arrested in Paterson, New Jersey four days later. Five other defendants were arrested in the Bronx, and one was detained in Connecticut.
Copyright © 2018, ABC Radio. All rights reserved.