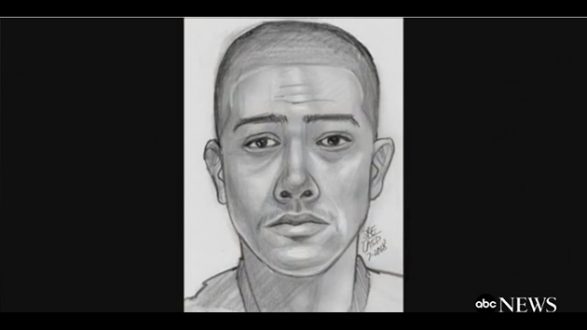 ABC News (LOS ANGELES) — It's been 13 years since a young Southern California father of two was found shot dead in his bed.
But investigators are now releasing a new composite sketch of the suspect, a move the Los Angeles County Sheriff hopes will finally lead to the break detectives have been waiting for all these years.
"We believe we can show you the face of a killer," Los Angeles County Sheriff Jim McDonnell said Tuesday at a news conference. "We believe we are very, very close to a breakthrough in this case."
The investigation began on Dec. 6, 2005, when Edward Berber was found shot to death inside his Hacienda Heights home.
His mother, who hadn't heard from him in several days, had gone to his home and found his body in bed, the Los Angeles County Sheriff's Department said. Detectives believe Berber, 27, was sleeping when he was shot and killed.
He left behind two children, ages 8 and 3, the sheriff's office said.
Berber and his wife were estranged at the time and in the process of divorcing.
Nothing in Berber's background suggests he had a falling out with anyone in his family or in the neighborhood, the sheriff's office said.
There was no sign of forced entry into his home and nothing is believed to have been stolen, according to the sheriff's office.
Berber was a "family man that loved his children," his sister, Alejandra Johnson, said at Tuesday's news conference.
"My brother had goals. He worked all his life to be accomplished and a professional, with a master's degree from Notre Dame. [He] was about to take his CPA test," she said, overcome with emotion. "I wished I could be like him."
As the years went by without an arrest, the initial homicide investigators exhausted all leads and have since retired.
"With a new set of homicide investigators looking at the facts of the case, the application of advanced technology, follow-up interviews and ongoing re-evaluation of evidence, homicide detectives believe this is a very solvable case," the sheriff's office said.
The composite sketch released on Tuesday was developed "based on re-interviewing witnesses from in 2005 and early 2006, as well as witnesses that were interviewed just recently," the sheriff's office said.
The image depicts what the suspect would have looked like 13 years ago.
"Please look at this face," McDonnell said Tuesday. "Someone out there knows him."
A $10,000 reward has been offered for information leading to an arrest.
Anyone with information is urged to call the Los Angeles County Sheriff's Department's Homicide Bureau at (323) 890-5500.
Copyright © 2018, ABC Radio. All rights reserved.