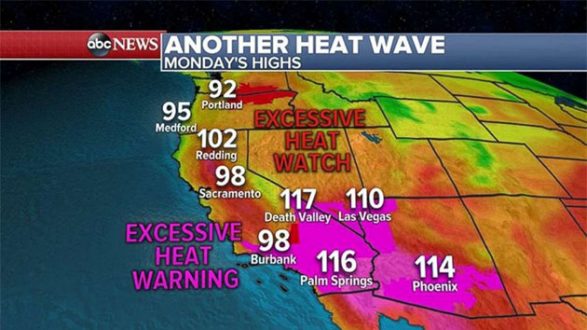 ABC News (NEW YORK) — If the recent dry and hot weather wasn't problem enough, another heat wave is on the way for the West Coast from Los Angeles to Seattle to start the work week.
There are also 68 large, uncontained wildfires burning in the U.S., with 18 in California and 17 in Oregon and Washington combined.
Numerous heat warnings and watches have been posted from Arizona to Washington.
If you think this is hot, the numbers for the week ahead are no better.
It's not hot only in the West, but also in the East. The heat index forecast for today in the East will be between 95 and 100 degrees from Washington, D.C. to Boston — and even into Maine.
Another scorcher is forecast for tomorrow in the East and then some relief from the heat is expected by the middle to end of the week.
Severe weather in Midwest
We are watching for severe weather today from Denver to Chicago and Detroit.
The biggest threat will be damaging winds, hail and a few tornadoes. Some heavy rain and flash flooding are also possible.
Copyright © 2018, ABC Radio. All rights reserved.