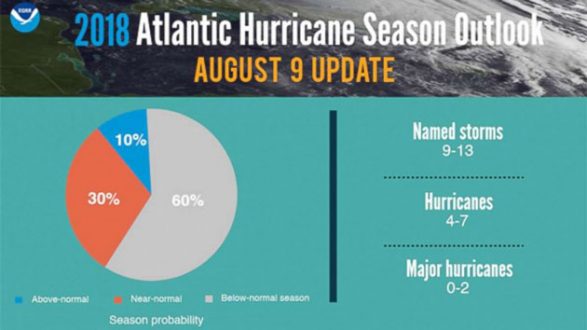 NOAA(NEW YORK) — There's a good chance that conditions in the sea and atmosphere will produce a less active Atlantic hurricane season this year, according to a new forecast from the National Oceanic and Atmospheric Administration.
NOAA released its updated prediction Thursday, which was a change from the agency's forecast in late May that suggested normal to slightly above-normal activity during the period when hurricanes form in the Atlantic Ocean.
The likelihood of a below-normal Atlantic hurricane season is now at 60 percent, up from 25 percent in May. The chance of a near-normal season has dropped from 40 to 30 percent, while the likelihood of an above-normal season has plunged from 35 percent to 10 percent, according to NOAA.
NOAA's seasonal forecasters considered several factors when updating the outlook. There's now a 70 percent likelihood that El Nino, a warming of the equatorial Pacific Ocean that increases wind shear over the Atlantic Ocean and the Caribbean Sea, will form during the latter part of this year's hurricane season. Moreover, sea surface temperatures across the tropical Atlantic Ocean and Caribbean Sea have continued to remain much cooler than average.
The combination of cooler temperatures, stronger wind shear, drier air and increased stability in the region where storms typically develop will further suppress hurricanes, according to NOAA.
But forecasters urged caution as the season enters its peak months, from mid-August to late October.
"There are still more storms to come –- the hurricane season is far from being over. We urge continued preparedness and vigilance," said Gerry Bell, lead seasonal hurricane forecaster at NOAA's Climate Prediction Center.
For the entire Atlantic hurricane season, which runs from June 1 to Nov. 30, NOAA predicts there will be a total of nine to 13 named storms (39 mph or higher winds), of which four to seven will become hurricanes (74 mph or higher winds), including as many as two major hurricanes (111 mph or higher winds).
So far this season, there have been four named storms, including two hurricanes. An average six-month hurricane season produces 12 named storms, of which six become hurricanes, including three major hurricanes, according to NOAA.
"Today's updated outlook is a reminder that we are entering the height of hurricane season and everyone needs to know their true vulnerabilities to storms and storm surge," said Brock Long, administrator of the Federal Emergency Management Agency. "Now is the time to know who issues evacuation orders in their community, heed the warnings, update your insurance and have a preparedness plan. Don't let down your guard, late season storms are always a possibility, always keep your plans updated."
Copyright © 2018, ABC Radio. All rights reserved.