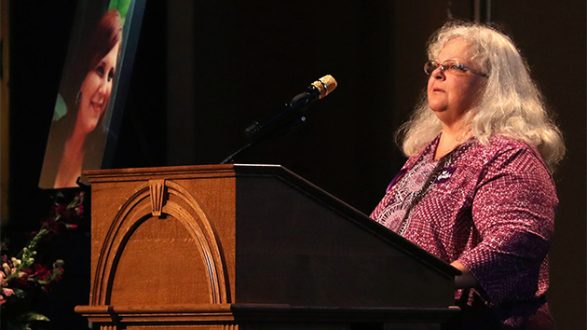 Andrew Shurtleff-Pool/Getty Images(NEW YORK) — A year after Heather Heyer was killed at a white nationalist rally in Charlottesville, Virginia, her mother, Susan Bro, has turned to activism instead of "dwelling in hate or anger."
"I think if we don't focus on fixing the issues that caused this in the first place, the racial divide in our country, then we're going to be right back at Charlottesville in no time flat," Susan Bro told ABC News' "Start Here" podcast.
Bro said she's spoken to "hundreds of thousands of people" about how to address these issues, adding that she was surprised by the amount of people who were determined to take a stand when they heard stories about her daughter.
"I've had conversations with many people that I've never met, who've simply listened to something that I've said, or read about Heather's life, or heard about what's going on, and they say they're standing up and speaking out now."
On Aug. 12, 2017, Heyer, 32, was killed when a car plowed into a group of counterprotesters who were demonstrating against a Unite the Right rally spurred by Charlottesville's plan to remove a Confederate statue from a local park.
Bro told "Start Here" she often visits that area on 4th Street, now renamed "Honorary Heather Heyer Way," where visitors leave messages like, "No Place for Hate" and "Gone, But Not Forgotten."
"I often go down there on my own in the evenings sometimes," she said. "Or just to stop and read the messages that people have left, and kind of absorb Heather's energy, the energy of people who have written on the walls of the street there. There's always a box of chalk available for people to write with."
Ahead of the one-year anniversary of Heyer's death this weekend, Virginia Gov. Ralph Northam declared a state of emergency and asked Virginians to "make alternative plans to engaging with planned demonstrations of hate."
There are small memorial events planned in Charlottesville, but police in Washington, D.C., are preparing for any fallout from a planned Unite the Right parade and rally.
Bro said she believes any counterprotesters will be "a little more wary and cautious" after seeing what happened last year in Charlottesville, but she insisted that ignoring white nationalist groups is not the answer, saying they "crave silence or violence." Instead, she's calling for loud, non-violent resistance.
"If we ignore them, they think they have won because they have had the…playing field all to themselves. If we give them violence, they believe they have won because they have pushed your buttons and maybe taken out a few."
Copyright © 2018, ABC Radio. All rights reserved.