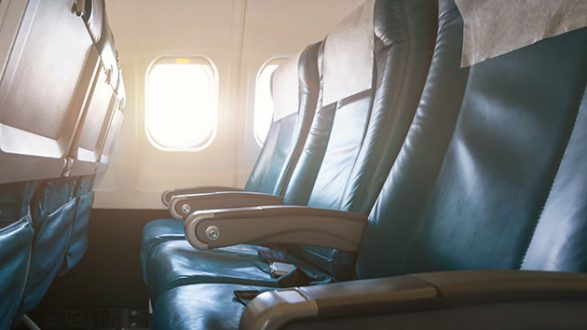 iStock/Thinkstock(SEATTLE) — An empty Horizon Airlines plane has crashed after it was stolen by a ground employee from Seattle-Tacoma International Airport on Friday around 8 p.m., according to local authorities and a senior federal aviation source.
North American Aerospace Defense Command scrambled fighter jets to accompany the plane — which was steered away from Seattle and Tacoma by air traffic control — on its hourlong flight, according to the source. The Pierce County Sheriff's Department said the two F-15s were not involved in the crash.
The crash happened on Ketron Island, which is southwest of Tacoma, in south Puget Sound. The small island has only about 20 year-round residents.
The employee who stole the plane was 29 years old, from Pierce County and called "suicidal" by the sheriff's department. Constance von Muehlen, Horizon Air's chief operating officer, confirmed the man was an employee of the company.
The sheriff said this was not a terrorist incident.
"Most terrorists don't do loops over the water," Sheriff Paul Pastor said. "This might have been a joyride gone terribly wrong."
The Pierce County Sheriff's Department has a number of vessels on scene, and the U.S. Coast Guard is also there. A large fire could be seen from aerial shots of the island. Officials said no one on the ground was harmed. Neither were any buildings.
The plane, a Bombardier Dash 8-Q400, has the capability to hold about 75 passengers and is used for short travel in the West.
Many passengers awaiting takeoff tweeted that their planes were stopped on the ground during the incident.
Sea-Tac confirmed that an airline employee took off without passengers. Normal operations had resumed by 9:30 p.m. local time.
The FBI said it was in contact with officials, but it was too early for them to comment on specifics.
"The FBI is communicating with local, state and federal partners, but it is too early for us to put out details on the rapidly evolving situation," the FBI said in a statement. "We frequently get involved with matters related to aircraft, so we are poised to act if information develops to suggest a federal criminal nexus."
Brad Tilden, Alaska Air Group CEO, released a statement saying the company was "working to find out everything we possibly can about what happened."
"We are still gathering facts, but at this point, we understand there was only one person aboard — an employee of Horizon Air — who was operating the aircraft. I want to share how incredibly sad all of us at Alaska are about this incident," Tilden said. "Our heart is heavy for the family and friends of the person involved."
"We're working to find out everything we possibly can about what happened, working with the Federal Aviation Administration, the Federal Bureau of Investigation and the National Transportation Safety Board," he added. "We are giving those investigators our full support and cooperation. With these investigations underway, our focus will remain on supporting the family of the individual involved, the broader Alaska and Horizon family, and our communities and guests."
Copyright © 2018, ABC Radio. All rights reserved.