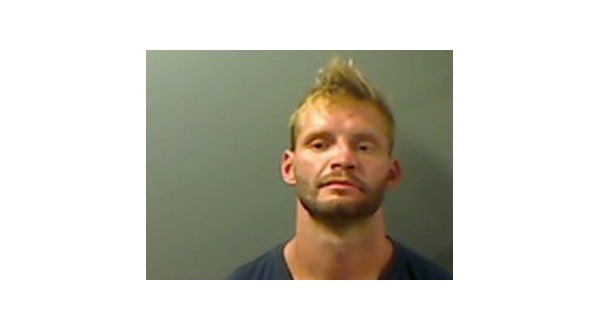 A Mountain Home man, 29-year-old Robert Beyer, is being held without bond for failure to comply with the terms and conditions of his probation stemming from an incident in late 2017 when a piece of razor barb was found inside a deck of playing cards in the Marion County Detention Center. Beyer was being held in the Marion County Detention Center on two felony drug offenses when the incident occurred with the razor barb.
According to the probable cause affidavit, a jailer intercepted the cards as Beyer was attempting to hand them to another inmate. Upon inspecting them, a razor barb was discovered within the cards. The razor barb is atop the outside security fence utilized for inmate yard time.
Security cameras revealed Beyer and four other inmates were in the yard when the Mountain Home man is observed raising his arms, taking hold of the wire and twisting the razor barb. As the barb breaks and falls behind him, Beyer is seen turning around and picking it up.
Beyer admitted to officers to breaking the razor from the fence and bringing it into the jail. He said he makes paper hats utilizing the razor.
The incident led to felony charges of possession or use of a weapon by an incarcerated person and furnishing prohibited articles, as well as a misdemeanor charge of criminal mischief.
Online court records indicate in January Beyer through a negotiated plea enter a guilty plea to the misdemeanor criminal mischief charge, with the felony charges nolle prossed or dropped by the state. At the same time, Beyer pled guilty to a reduced misdemeanor charge of possession of drug paraphernalia, with the state dropping the felony charges. In both cases, he was placed on a year of supervised probation.
In less than two months, online court records indicate Beyer was found in contempt for violating two conditions of his probation, with a warrant issued for his arrest. In April, he was back in court for a revocation hearing. The following month, records indicate Beyer was being held in the Baxter County jail. In May, he failed to appear for a revocation hearing in Marion County Circuit Court, but later in the same month was present for a second hearing. One week later, he failed to appear and another warrant was issued for his arrest.
Beyer is set to appear in Marion County Circuit Court later this month.
WebReadyTM Powered by WireReady® NSI