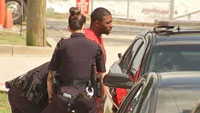 WSBTV(COLLEGE PARK, Ga.) — Police arrested a Georgia man on Sunday after he allegedly shot and killed his live-in girlfriend and stabbed a police dog during a manhunt.
Randy Young, 31, allegedly shot the 27-year-old woman several times in the face at his apartment in College Park, Georgia, on Sunday morning and fled the scene on foot, according to police.
Police said the shooting happened "in front of the woman's step-father," who identified Young as the shooter and told the responding officers the direction he fled, according to the Clayton County Sheriff's Office.
Police did not release the woman's identity, but her family said she went to the apartment with her stepfather to retrieve her belongings.
She was trying end her relationship with Young when the shooting happened, according to police.
"She had an incident with him before and she asked me to call the cops before, and I did. Now for this to happen, it's heartbreaking," a neighbor told Atlanta ABC affiliate WSBTV on Sunday. "It's sad because a mother with children — a very nice, pleasant young lady — is dead because of domestic violence."
Police said the woman managed to run away and get help but she died later as a result of her injuries.
Officers located Young in a wooded area about five hours after the shooting, according to the office, which credited its K9, Oldin, for capturing the suspect. Young allegedly stabbed the dog twice — once in the neck and once in the jaw — before he was apprehended and taken into custody.
"K9 Oldin bravely defended himself while being stabbed and was able to bite Young in return aiding in his apprehension. Young had a gun in his waistband area that Officers and Deputies found while apprehending him," the Clayton County Sheriff's Office said in a statement Sunday.
Oldin was taken to a nearby animal hospital where he underwent surgery for his injuries. He is recovering and expected to survive, according to the statement.
"The Sheriff went to the hospital to pay K9 Oldin a visit to make sure he was ok, and personally thank him for a job well done in getting a no good murderer off of the streets," the statement said. "On the other hand, Young will not receive a visit from the Sheriff while he is being treated for his dog bite wounds."
Young was charged with murder and aggravated assault and is currently being held at Clayton County jail. It was unclear if he had obtained an attorney as of Monday morning.
Copyright © 2018, ABC Radio. All rights reserved.