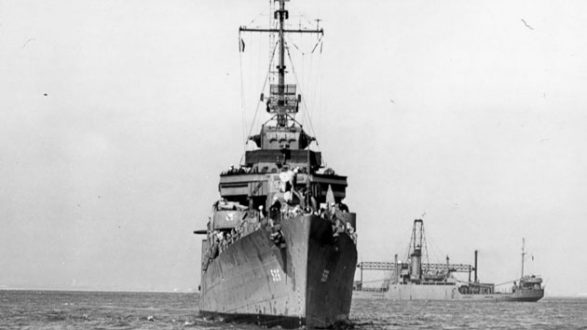 Project Recover(KISKA, Alaska) — Some 75 years after an explosion from a Japanese mine ripped through the USS Abner Read, a team of scientists says they've discovered the missing stern hundreds of feet beneath the waves off the Alaskan Island of Kiska.
"This is a significant discovery that will shed light on this little-known episode in our history," retired Navy Rear Adm. Tim Gallaudet, acting undersecretary of commerce for oceans and atmosphere and NOAA administrator, said in a statement. "It's important to honor these U.S. Navy sailors who made the ultimate sacrifice for our nation."
It was about 1:50 a.m. on Aug. 18, 1943, when the Japanese blast tore apart the American destroyer.
The ship's 75-foot stern, along with 71 sailors, disappeared into waters off the remote island of Kiska. Amazingly, the rest of the Abner Read survived.
The crew had kept its hull watertight until two nearby U.S. Navy ships could tow the destroyer back to port. Within months, the Abner Read was deployed back to the Pacific during a critical period of World War II.
It was used until November 1944, when a Japanese dive bomber destroyed the ship in a kamikaze attack during the battle of Leyte Gulf in the Philippines, considered one of the largest naval confrontations of the war.
The discovery was made by the research team at the Scripps Institution of Oceanography at the University of California San Diego and the University of Delaware, which was funded by the National Oceanic and Atmospheric Administration Office of Exploration and Research. They partnered with four U.S. Navy sailors from the Naval Special Warfare Group.
The effort also was supported by Project Recover, a public-private partnership working to find the final underwater resting places of Americans missing in action since WWII.
The team made the discovery July 17 during a mission to document the battle off Kiska. Sonar mounted to the side of a research ship identified the target before a remotely operated vehicle captured live video that confirmed that the Abner Read's stern indeed was below, now covered in sea life.
"There was no doubt," said expedition leader Eric Terrill, an oceanographer at the Scripps Institution of Oceanography and co-founder of Project Recover. "We could clearly see the broken stern, the gun and rudder control, all consistent with the historical documents."
According to the researchers, the Kiska mission was the first to thoroughly explore the underwater battlefield where as many as 7,200 Japanese forces occupied the Aleutian islands from June 1942 to mid-August 1943.
According to Naval History and Heritage Command, there are often war graves near sites like that of the Abner Read that are considered the final resting place for sailors who lost their lives at sea.
"We take our responsibility to protect those wrecks seriously," said the command's director Sam Cox. "They're the last resting place of American sailors."
Copyright © 2018, ABC Radio. All rights reserved.