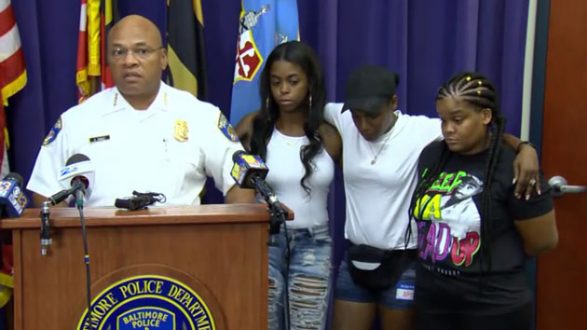 ABC News(BALTIMORE, Md.) — Authorities in Baltimore have arrested a suspect in connection with the death of a 7-year-old girl who was killed by a stray bullet while sitting in the backseat of a car.
On the afternoon of July 5, second-grader Taylor Hayes was taken to the a local hospital after she was shot in the back in southwest Baltimore while riding in the back of a Honda Accord, according to the Baltimore Police Department.
Trauma doctors did "everything they could" but could not save her, Baltimore Police Commissioner Gary Tuggle said in a press conference Friday. Taylor died at the hospital after struggling to fight for her life for two weeks, The Baltimore Sun reported.
Baltimore resident Keon Gray, 29, has been arrested in the connection with the girl's death and charged with first and second-degree murder, first-degree assault, possession of a firearm in commission of a violent felony, firearm possession with felony conviction, illegal possession of a firearm, reckless endangerment and for discharging a firearm, according to police.
"When you have a child, 7 years old, thinking about playing with dolls and wanting to get candy, that person should not be subjected to violence," Tuggle said.
The woman believed to be Gray's girlfriend was also arrested on suspicion that she was an accessory to murder after the fact, Tuggle said.
Tuggle would not discuss a motive in the shooting.
Members of Taylor's family stood behind officials at the podium as they announced the charges Friday.
Taylor's mother, Shanika Robinson, asked members of the community to come together and stop the violence.
"I don't have my 7-year-old daughter anymore," she said. "… All the killing [has] got to stop. It has to. It's kids getting killed."
Taylor's aunt, Ebony Ward, told reporters that while the arrest provided "a little relief" to the grieving family, Robinson "still [doesn't] have her daughter back."
Ward thanked people who sent in tips and investigators for making the arrest.
"It's 'bout to be a long road, but we're gonna get through this," she said. "It won't bring Taylor back, but at least we're 'bout to get some type of justice, and we just want to thank everybody for all their hard work, and we really appreciate it."
Gray was arrested in a different county after an "incredible effort" by investigators and members of the community who sent in tips, Tuggle said. Gray was in custody and being transported back to Baltimore on Friday afternoon.
The girl's death elicited anger about a "no-snitching" ethos in the city, The Baltimore Sun reported.
Baltimore detectives believed that at least one individual had information on who killed Taylor but would not cooperate, according to the Sun.
It is unclear whether Gray has retained an attorney or has entered a plea.
Copyright © 2018, ABC Radio. All rights reserved.