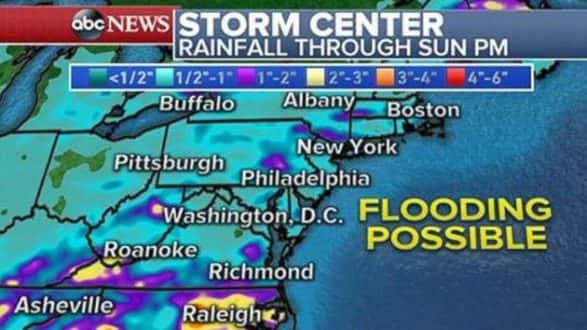 ABC News(NEW YORK) — Severe storms brought rain, lightning and damaging winds to the Northeast on Friday evening, with wind gusts up to 65 mph in parts of central and western New Jersey, and reports of over 5 inches of rain falling in Chatham, New York, overnight.
Lightning lit up the sky in New York City late Friday night, and is believed to have started a fire in Saratoga Springs City Hall.
Strong thunderstorms have been moving through parts of the Northeast Saturday morning. The intensity of this activity is expected to wind down Saturday morning before more storms fire up again on Saturday afternoon and evening.
A new flash flood watch has been posted for much of New Jersey, eastern Pennsylvania, northern Delaware and extreme northeast Maryland due to heavy rain. This new watch is for storms expected Saturday afternoon and evening that could dump heavy rainfall on already-saturated ground.
Storms will fire up during the afternoon before reaching the I-95 corridor from Washington, D.C., to Boston during the early evening hours on Saturday. The storms are expected to produce gusty winds, lightning and heavy rain. Flash flooding is a concern, particularly in parts of Pennsylvania and New Jersey, where there has been a good deal of rain the last several weeks.
Some locations from Pennsylvania to New York have seen nearly triple the amount of rain they usually see in August to date.
The heaviest rain will pass on Saturday evening. On Sunday, there will be some lingering showers holding on to parts of east. Locally, 1 to 2 inches of rain is expected in the heavier downpours across the eastern U.S. from strong thunderstorms through Sunday night.
New storm system developing
A new storm system will develop in the central U.S. on Saturday night and last into the beginning of next week. Strong storms will move across the Plains during the early morning hours on Sunday. The storm activity will become more widespread Sunday night across nearly the entire central U.S.
The main concern with these storms will be localized flash flooding that occurs from slow-moving thunderstorms. The strong storms are expected to bring gusty winds as well.
The storms could dump 2 to 4 inches of rain by Monday morning across parts of the Gulf Coast, from Louisiana to Alabama, as well as parts of the plains from Kansas to Minnesota.
Another round of summer heat
Another round of summer heat is moving into the West this weekend. Triple-digit temperatures are expected Saturday through much of Central and Northern California. Temperatures in the 90s are expected across parts of the interior Pacific Northwest.
Gusty winds in parts of the northern Rockies could cause dangerous fire conditions. The Stubblefield Fire in Eastern Oregon grew from 600 to 5,000 acres on Friday due to gusty winds in the region.
After a hot weekend, some slightly cooler air moves into the West early next week.
Copyright © 2018, ABC Radio. All rights reserved.