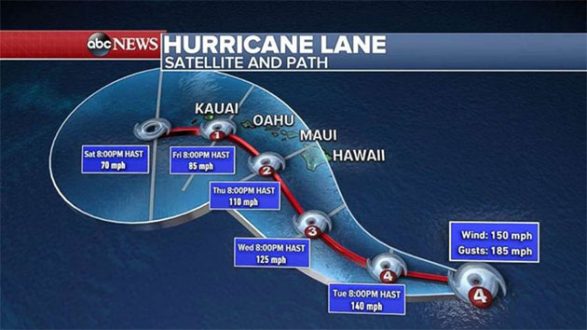 ABC News(NEW YORK) — Hurricane Lane is a powerful Category 4 storm with maximum sustained winds of 150 mph, and gusts to 185 mph, as of Tuesday morning.
The forecast takes the hurricane toward the islands of Hawaii, possibly coming close to Honolulu by Friday.
Hurricane conditions are possible in Hawaii later this week.
Flash flooding moves east
A storm system responsible for three tornadoes from Arkansas to Iowa and an all-time 24 hour rainfall record in the state of Wisconsin is now moving east into the Mid-Atlantic and the Northeast.
Flood watches continue for the Great Lakes Tuesday morning.
As the storm system moves east, severe storms will break out from western New York to eastern Ohio and western Pennsylvania and down to all of West Virginia, western Virginia and parts of Maryland.
Major cities included in the risk area are Rochester, New York; Pittsburgh; Washington, D.C.; Charleston, West Virginia; and Roanoke, Virginia.
The biggest threat with these storms will be damaging winds, flash flooding and maybe an isolated tornado.
More than 3 inches of rain is possible locally for parts of Pennsylvania and Mid-Atlantic.
Copyright © 2018, ABC Radio. All rights reserved.