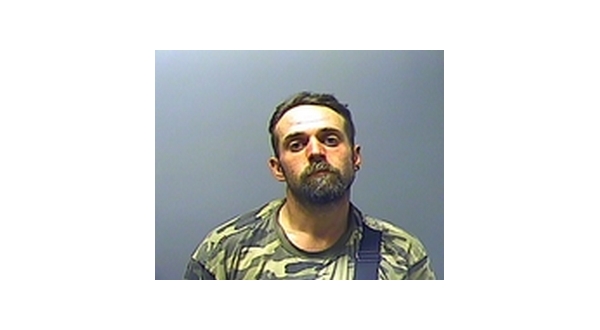 A Marion County man made an initial appearance in Baxter County Circuit Court Thursday on charges stemming from an incident beginning when a Mountain Home woman came home to find a large quantity of someone's personal property on her front porch.
Thirty-eight-year-old Bryan Rocap of Flippin entered a not guilty plea before Circuit Judge Gordon Webb to a felony charge of criminal mischief and a misdemeanor charge of criminal trespassing.
On September 3rd, the Mountain Home woman advised the Baxter County Sheriff's Office she had returned to her home along Chaperal Drive and found the property on her front porch and asked for assistance in identifying the owner of the items.
Investigators determined the property belonged to Rocap, an acquaintance of the woman who told the officers she had no idea why his belongings had been left on her porch.
The following morning, the woman contacted law enforcement again saying a friend of hers was driving past the Chaperal residence and observed a vehicle with two occupants in the driveway.
The friend, with prior knowledge of the mysterious property found on the porch, pulled in the driveway behind a green SUV with New Mexico tags to investigate.
A female exited the SUV and approached the Mountain Home woman's friend, saying she knew the homeowner who was aware of her presence. However, as she told her story, she was described as acting irate.
The woman from the SUV was not aware the friend was on the phone with the homeowner who was advising no one should be at her residence. The two women ended their conversation, and the homeowner contacted the sheriff's office.
When officers responded again to the residence, they were met by a woman who said the female from the SUV threatened her and struck her van with a baseball bat. The male driver of the SUV backed his vehicle into the woman's van, pushing it backwards. The two subjects in the SUV then fled in their vehicle.
Officers noted blood on the female victim's legs resulting from flying glass inside her vehicle when the bat struck the windshield. The windshield of the van was broken from the bat, and dings in the door post of the driver's door were also noted. There was also minor damage to the vehicle's bumper where the SUV had pushed it.
The victim was able to video from her phone showing the male subject in the SUV later identified as Rocap, the same person whose personal property was left on the front porch of the residence.
Rocap was booked into the Baxter County Detention Center Saturday evening. An incident report at the sheriff's office notes jailers were called to break up a fight between the Marion County man and another inmate, who admitted starting the altercation that same evening.
Rocap is set to reappear in Baxter County Circuit Court next Thursday.
WebReadyTM Powered by WireReady® NSI