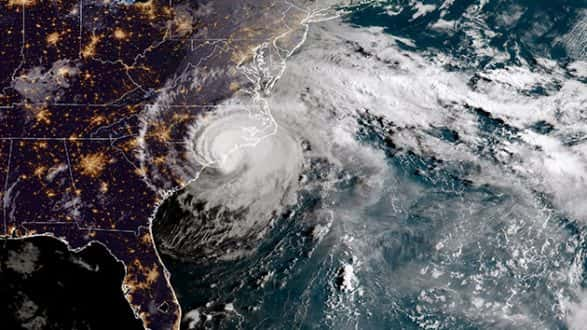 NOAA/Getty Images(WILMINGTON, N.C.) — The total extent of devastation from Florence, which has turned from a hurricane into a tropical storm, remains unknown as rain and flooding continue to wreak havoc in the Carolinas.
But there have been seven storm-related deaths since Florence, then a Category 1 hurricane, made landfall Friday morning. Identities of the victims have not been publicly released, but some details about the ways in which they died are available.
A mother and infant were killed in Wilmington, North Carolina, when a tree fell on their home. The woman's husband was injured in the incident and taken to a nearby hospital, according to police.
A 78-year-old man in Kinston, North Carolina, was electrocuted when he tried to connect two extension cords outside in the rain, according to Lenoir County Emergency Services Director Roger Dail.
The body of a 77-year-old man, also in Kinston, was found by his family at his home, and it is believed he died when he was blown down after going outside to check on his hunting dogs, Dail said.
Another individual's death was reported Friday in coastal Pender County, though few details are known. A local official said it was a "storm-related medical fatality," but did not elaborate.
Two people also died in Harkers Island, North Carolina, on Friday, Carteret County Director of Emergency Services Stephen Rea said Saturday. He said the cause was not drowning, and did not provide further details.
Heavy rain and flooding are expected to continue at least through the weekend, and local officials said hundreds in areas hit by Florence still need rescue.
Mandatory evacuations were ordered in parts of North and South Carolina, though many people chose to remain in their homes for reasons ranging from financial concerns to the need to care for pets.
"Honestly, I'm not sure" why some people refused to follow evacuation orders, David Cotton, county manager for North Carolina's Onslow County, told Good Morning America on Saturday. "More than likely it's maybe a mindset of 'we've been through this before,'" he said.
Copyright © 2018, ABC Radio. All rights reserved.