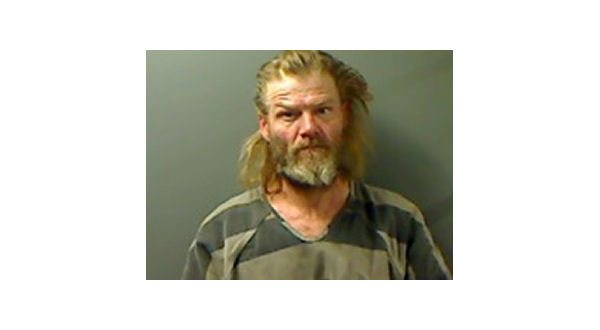 A Marion County man, 48-year-old Shawn Edward Johnson of Yellville, has been arrested in connection with incidents in which a homeowner confronted him after he returned for items he allegedly had taken from the man's garage and after being found sitting in someone else's vehicle without authorization.
According to the affidavits filed Tuesday, in early September a Marion County sheriff's deputy was dispatched to a residence along Domino Alley in Yellville. Johnson and others are alleged to have taken a chain saw, tackle box, and about a dozen rods and reels from a garage at a residence.
The homeowner advised the thieves attempted to steal a boat motor he later found hidden in a bush as he was mowing, leading him to discover the other items had been taken.
Thinking the thieves would return, the homeowner waited and confronted Johnson and others. While they denied having taken the items, a few minutes later one member of the group returned with the chainsaw. He blamed the theft on Johnson, saying he could not have taken it because he had been incarcerated in the Baxter County Detention Center at the time.
Johnson is facing a felony charge of breaking or entering in connection with the incident, along with misdemeanor counts of criminal trespassing and theft.
In the second case, a sheriff's deputy, responding to a breaking or entering of a vehicle on Oct. 3rd , found Johnson sitting in a truck along State Highway 14 South.
The daughter of the vehicle's owner said she heard a horn honking, went outside and saw someone in her mother's truck, leading her to contact law enforcement.
The owner of the truck later told deputies she did not want Johnson on her property and had not invited him.
Johnson was reportedly unstable on his feet, not wanting to comply with orders, showing signs of agitation and yelling and cursing belligerently at the officers.
A search of the vehicle revealed drug paraphernalia, leading to a felony count against Johnson. He also faces two misdemeanor counts of possession of drug paraphernalia, along with obstructing governmental operations and criminal trespass in or on a vehicle.
His bond was set at $20,000.
Johnson has a third open case in Marion County Circuit Court. In late April he was arrested and charged after allegedly making threats at a Yellville residence. He faces charges of possession of a schedule II controlled substance, possession of drug paraphernalia and a misdemeanor count of resisting arrest in connection with that incident.
When law enforcement arrived, at a residence on North Berry Street in reference to an unwanted person armed with a baseball bat and a possible firearm, he found Johnson, who had fled on foot, walking down a creek and heading under a bridge beneath North Panther Avenue.
Johnson denied being at the Berry Street residence, but he stated he passed by and was yelled at by the male resident. A black softball bat was located in the tall grass near the creek bank, and Johnson denied ownership and knowledge of the bat's presence. While the residents did not want to file charges, they asked for Johnson to receive a criminal trespass warning, and he was then released from custody.
An Arkansas State Police trooper, who arrived on the scene earlier, located a glass pipe containing a large chunk of a white crystalline substance on a small raised platform on the north side of the bridge where Johnson had been sitting. Authorities rushed to detain Johnson who had only made it a short distance from the scene. Johnson allegedly became agitated and began resisting arrest.
While en route to the Marion County Detention Center, Johnson allegedly threatened to assault a deputy, and the threats continued upon arrival and while being searched by jail staff. Johnson reportedly stated the threats were not simply threats, but they were statements.
WebReadyTM Powered by WireReady® NSI