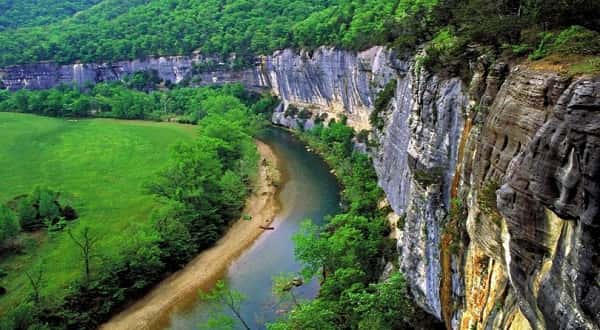 A U.S. Geological Survey presentation is showing increased pollution in the groundwater of Buffalo National River's watershed. According to the Arkansas Democrat-Gazette, the Buffalo River had 70 miles of algae this year disrupting tourists' late summer trips down the waterway. That covers nearly half of the 150-mile river, and 135 miles of the river are in the national park.
Federal researchers have not been able to tie the presence of algae to C&H Hog Farms located in Newton County on Big Creek, a Buffalo River tributary, in a study that could take years to complete. The Arkansas Department of Environmental Quality denied a new operating permit for C&H this month contending the farm could be contributing to water-quality issues in Big Creek and the river.
The preliminary findings presented earlier this month to the Beautiful Buffalo River Action Committee come from multiple studies conducted by the Geological Survey, the National Park Service and ADEQ. The research has also implicated other animal agriculture in the watershed as potential sources of elevated nutrients -- algae-causing phosphorus and nitrates.
Two researchers with the Geological Survey and one from ADEQ have studied the water quality issues and their sources in Mill Creek, another Buffalo River tributary. Lower Mississippi-Gulf Water Science Center aquatic research biologist Billy Justus says likely sources of bacteria in Mill Creek are cattle, poultry and humans. The USGS is testing the DNA of waste in Mill Creek to determine its source. According to tests, samples taken below the Marble Falls wastewater treatment plant detected more human waste than from cattle. Human waste detected upstream was lower, but cattle waste was higher as the sampling moved closer to cattle farms.
Big Creek is the Buffalo River's only tributary to be considered "impaired" by ADEQ partly due to elevated levels of E.coli and diminished levels of dissolved oxygen. The river is additionally considered impaired for several miles upstream of its confluence with Big Creek and several miles downstream specifically for E.coli levels.
Justus says he wants to conduct additional years of research on the algae problem, but the USGS currently does not have the funding to cover it. Justus believes another five-to-six years are necessary to determine the algae's source.
WebReadyTM Powered by WireReady® NSI