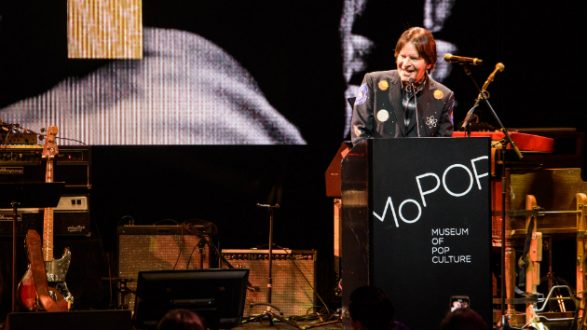 Brady Harvey/Courtesy of MoPopJohn Fogerty was one fortunate son on Wednesday at Seattle's Museum of Pop Culture — a.k.a. MoPop — where he was presented with the institution's 12th annual Founders Award recognizing artists who have made outstanding contributions to popular music. The former Creedence Clearwater Revival frontman received the honor during the museum's annual fundraising gala, which raised $950,000 for the attraction.
Fogerty's sons Shane and Tyler were on hand to help salute their dad.
"I am humbled and honored that MoPoP chose me as the recipient of the 2018 Founders Award," the 73-year-old Rock & Roll Hall of Famer said after receiving the honor. "I had no idea my sons, Shane and Tyler, would be delivering this heartfelt speech. I will never forget how special it was. I am so grateful and proud."
After the award presentation, a private tribute show honoring John was held that featured Alice in Chains' Jerry Cantrell, Kenny Wayne Shepherd and several other musicians playing various memorable CCR songs. Fogerty closed out the show by hitting the stage with his sons to perform his Creedence classics "Proud Mary," "Fortunate Son" and "Have You Ever Seen the Rain," as well as the traditional tune "Oh Susannah," a song he says inspired his interest in playing music.
John said of the tribute performances, "I witnessed some of the best arrangements and vocals of my songs that I have ever heard. For those who were there I know they felt the same."
The fundraiser also featured a tribute to MoPop's founder, Microsoft co-founder Paul Allen, who died of lymphoma at age 65 in October. The money raised by the event will support the museum's youth education programs, exhibitions and more.
Copyright © 2018, ABC Radio. All rights reserved.