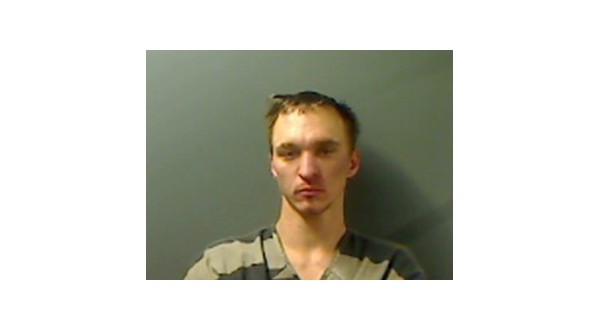 A Marion County man has been arrested and charged after he allegedly drove a truck to court on an unrelated matter with tools used in a break-in in the bed of the vehicle.
According to the probable cause affidavit filed Friday, 26-year-old Dylan Statum of Summit, has been charged with felony counts of breaking or entering and criminal mischief, as well as a misdemeanor count of theft of property.
Statum is alleged to have driven his girlfriend's truck to a mini storage in Yellville on Nov. 29th, where an accomplice is seen on video surveillance getting out of the vehicle. His accomplice is seen walking to a wooden box mounted on a building previously used for payments.
The man can be seen unscrewing and prying off the lock to the box, while hiding from passing traffic.
After getting the box open, the man is seen crossing the driveway to the current payment box. Again hiding from passing traffic, the man sticks what appeared to be a pry bar into the box in an attempt to open it. After several unsuccessful attempts, the man leaves the camera's view, returning over three hours later with the pry bar and a ball-peen hammer, successfully breaking into the box, reaching in and taking the contents.
On Dec. 3rd, Statum drove the truck suspected as being used in the theft to the Marion County Courthouse annex for a court appearance. While the truck was in the parking lot, officers noticed in the vehicle bed what appeared to be a pry bar and a ball-peen hammer matching the ones seen in the security video used to break into the payment box at the mini storage.
A short time later, Statum's girlfriend arrived to pick up the truck, and the officers were given consent to search the vehicle for any evidence pertaining to the break-in at the mini storage.
During the consent search, no monetary evidence pertaining to the break-in was found. However, the ball-peen hammer and pry bar were photographed and seized as evidence.
At the Marion County Sheriff's Office, Statum, who had been ordered to jail earlier in the day for an un-related matter, agreed to a formal interview. He allegedly admitted to driving his accomplice to the area of the mini storage, dropping him off and picking him up at a later time.
Statum said the two men allegedly burned checks from the mini storage payment box in the parking lot of a Yellville motel.
Statum's bond was set at $10,000.
WebReadyTM Powered by WireReady® NSI