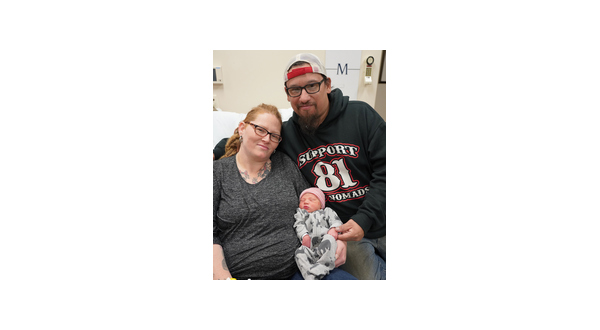 Photo: Samantha and Brendan Clements of Salem are the parents of Kellan Clements, Baxter Regional Medical Center's first baby of 2019.
It didn't take long for the first baby of the new year to arrive at Baxter Regional Medical Center.
Kellan Clements, son of Brendan and Samantha Clements of Salem, arrived at 2:42 on New Year's morning.
Kellan Clements weighed 6 pounds, 13 ounces and measured 19 1/4 inches. He is the Salem couple's third child, joining a 12-year-old sister and a 5-year-old brother.
Samantha Clements says even though Kellan wasn't due until Jan. 7th, she had said from the get-go he might arrive on New Year's Day. She was right. Like his two siblings, he also arrived six days early.
Samantha Clements says her husband had been working out of town and had planned to return home on Sunday. However, a change in his schedule resulted in him cutting it closer than planned for the arrival of their son. She says he arrived home less than two hours before Kellan was born.
BRMC's first baby of 2019 was delivered by Dr. Corey Smith of Baxter Regional Comprehensive Women's Clinic.
WebReadyTM Powered by WireReady® NSI