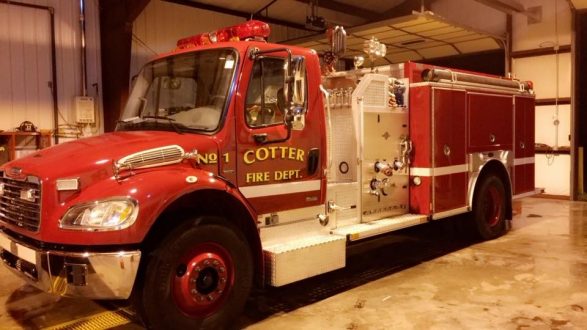 On her final day in office on Monday, outgoing Cotter mayor Peggy Hammack relieved the city's fire chief of his duties. Former chief Cory Swartz confirmed to KTLO, Classic Hits and The Boot news the two met Monday afternoon at her request, saying he was offered the opportunity to resign or be terminated.Swartz says he had served as the city's fire chief for a year and a half, with Hammack having appointed him to the position.Reached just hours after having taken the oath of office Tuesday as Cotter's new mayor, George "Mac" Caradine says former assistant chief Lyle Jack will be serving as the department's interim chief until the vacated position can be filled.
Caradine says the number one responsibility is the protection of the health, safety and welfare of the citizens of Cotter, whether its fire or police.

Listen:


Caradine says Hammack made him aware of her actions, but declined to provide additional details, saying it was private information.
Swartz says he had known for a month Hammack might take this action. He says when he asked the former mayor why she was asking him to leave, he was told it was for the use of foul language and information he had shared with members of his department regarding his attempt to purchase a fire engine and actions by Hammack.
Swartz says despite the council approving the purchase of the used engine at a cost of $25,000 at its October meeting, Hammack vetoed the action. Hammack confirmed the veto, terming it old news.
Mayor Caradine and Swartz say other firemen resigned after learning of Monday's termination.
Beyond confirmation of the veto, Hammack says the city is now under a new administration and referred further comment to Mayor Caradine, including whether other members of the fire department had resigned. She says no resignations were submitted to her.
With regard to the termination of Swartz, she says she doesn't take her decisions lightly, and she says the Cotter Fire Department will be fine.
Mayor Caradine says for anyone interested in being considered for Cotter's new fire chief, applications are available at city hall and the fire department.
WebReadyTM Powered by WireReady® NSI