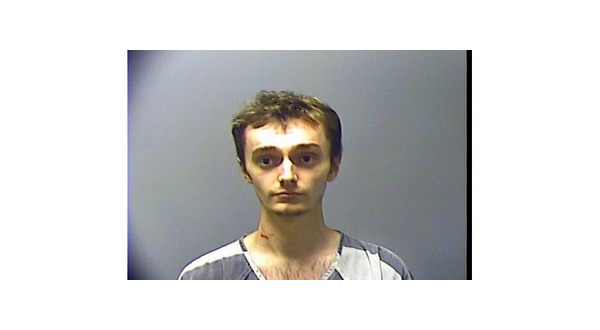 A 22-year-old Mountain Home man, Ryan Joel Anderson, accused in a number of violent domestic altercations with his then girlfriend, changed his plea to guilty on the charges against him Thursday. Anderson was sentenced to five years in prison during a session of Baxter County Circuit Court.The charges filed against Anderson included second-degree domestic battery with aggravating circumstances, violating a no contact order and interference with emergency communications.
The couple's strained and often turbulent domestic situation resulted in a number of charges being filed, orders of protection being sought and various "he said, she said" stories being told to law enforcement on various trips Baxter County deputies made to the residence along County Road 28 where Anderson and his girlfriend lived.
Anderson's latest arrest came in August when the girlfriend, identified in court records as Joey Lewin, accused Anderson of shoving her down, cracking the back of her skull open, and throwing various objects at her — including screwdrivers, a hammer and a jar of peanut butter.
Anderson and Lewin have made a number of court appearances stemming from the domestic violence incidents. At one point, Lewin appeared in court and requested the initial charges against Anderson be dropped. She told the court the altercation leading to Anderson's arrest was "something that just got out of hand," and described it as a "one-time event."
The probable cause affidavit written at the time of the initial incident in late June of last year told a different story. Lewin was reported to have told officers Anderson had been violent with her in the past, but she had not reported the prior incidents.
Prosecutors strongly objected to the dismissal of the initial charges saying they were concerned Anderson would repeat his violent behavior.
In dismissing the charges, Circuit Judge Gordon Webb said while he agreed with the position prosecutors were taking in the case, he was approving the dismissal based on Lewin's testimony and, in particular, her contention the event was not a common occurrence. Judge Webb warned Anderson at the time, "this must never happen again."
It did happen again, however, leading to later charges being filed against Anderson.
The initial altercation between the couple took place in late June last year. Lewin reported she had come home from work and Anderson began yelling at her. She said he eventually punched her in the nose and took her cellphone away so she could not call for law enforcement or other assistance. According to court records, Lewin was reported to have been four months pregnant at the time.
Anderson's version of the event had Lewin as the aggressor. He said she came home from work, began throwing food at him and yelling at him for not having a job. Anderson said Lewin scratched his eye and neck during the fracas.
Anderson has been in the Baxter County Detention Center since Aug. 11th and will get credit for time served.
WebReadyTM Powered by WireReady® NSI