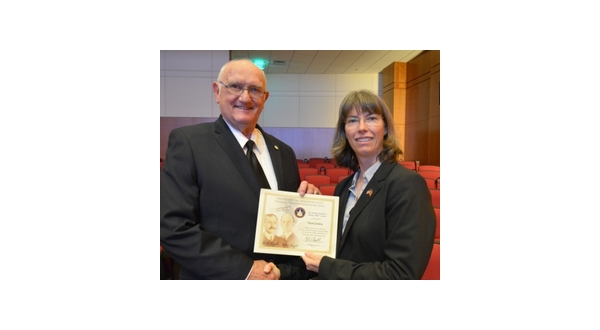 Photo (Ozark County Times): Tecumseh resident Paul Guiley was presented with the Federal Aviation Administration's Wright Brothers Master Pilot Award by Heather Metzler, FAA Safety Program director. The award is the FAA's highest honor given to civilian pilots.
An Ozark County resident, Paul Guiley of Tecumseh, has been presented with the Wright Brothers Master Pilot Award. The presentation was made in Little Rock by the Federal Aviation Administration's Safety Program Director, Heather Metzler.
The Ozark County Times reports the honor is the highest award given to civilian pilots by the FAA. To qualify, pilots must have made their first solo flight 50 years ago, have their entire flight history reviewed by FAA officials and provide recommendations from people who know them and have flown with them.
Guiley started flying at age 16 in 1963 in Brazil, where his parents were serving as missionaries. He soloed on Oct. 31st, 1965 in San Carlos, California, where he was attending college.
Since then he has worked in commercial aviation as a chief pilot for a charter company, as a commuter captain and as an instructor training pilots who went on to work for major airlines. He also worked as an Alaskan bush pilot for a year and then taught aviation in college. He says he has owned charter-aviation companies and three flight schools.
Guiley says he currently teaches flying in Willow Springs and enjoys flying a home-built plane.
WebReadyTM Powered by WireReady® NSI