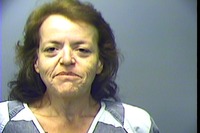 A woman arrested after reportedly jumping in and out of traffic at the entrance to a local retail store and found to be carrying an illegal weapon entered a guilty plea to charges against her during a session of Baxter County Circuit Court Thursday.
Fifty-year-old Carol Reinschmidt, who now lives in the East Arkansas city of Harrisburg, was sentenced to 90 days in the Baxter County jail and put on probation for six years.
She is to turn herself in later this month.
On May 23, 2017, Mountain Home police officers were called to the store just before 8:00 p.m. after a complaint was made concerning Reinschmidt's odd and dangerous behavior.
When they arrived, the officers reported Reinschmidt immediately raised her hands in the air, exposing a gun in her waistband. She was also reported to have yelled out to police she had a gun in her possession.
The weapon was a .22-caliber rifle cut off to an illegal length. A pistol grip had been modified to fit the altered rifle.
The gun was illegal for anyone to possess, doubly so for Reinschmidt who is a convicted felon and not permitted to be in contact with any weapons. According to court records, Reinschmidt was convicted on drug charges in 2016.
Reinschmidt was charged with being a felon in possession of a firearm, possessing a defaced firearm and public intoxication.
Reinschmidt, who was reported to be heavily impaired at the time of her arrest, was allowed to enter a rehabilitation program in Harrisburg at Restoration House. She has completed a 10-month program aimed at assisting people battling addictions. Since completing the program, she said she had started working at the rehab facility.
She told the court Thursday the 2017 incident which landed her in trouble was primarily caused by her heavy drug use.
She said the gun she had the night she was picked up belonged to a man who had confronted her in a menacing manner, and she had taken the weapon away from him to protect herself. "I kept it," she told the court, "and wanted to call the police."
Reinschmidt was allowed to delay turning herself in at the county jail so she could work with Restoration House to have someone cover her duties while she is incarcerated.
WebReadyTM Powered by WireReady® NSI