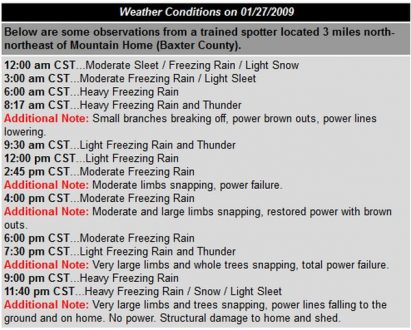 As reported in Sunday's news, Jan. 27th marked the 10th anniversary of the beginning of the 2009 ice storm that devastated northern Arkansas and southern Missouri. It's been called the worst disaster to ever hit the area. In part two of our series, we continue reflecting on how the storm affected area residents.
Chris Buanano, meteorologist with the National Weather Service in North Little Rock, says the scenario for the ice storm started setting up on that Monday, Jan. 26th.

Listen: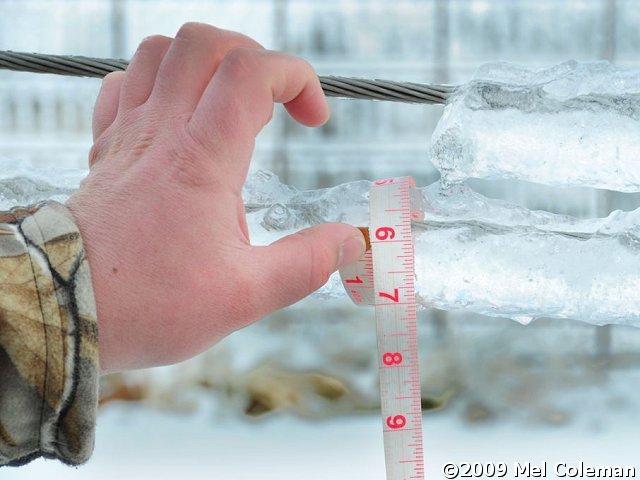 Most of the area received between 1 and 2 inches of ice accumulation, bringing down power poles and trees. Many described the sounds that night as a war zone, with the sounds of large limbs breaking and transformers blowing.
When area residents awoke the next morning, war zone continued to be the way to describe how things looked.
Trees and poles blocked roadways and had fallen on houses. Most residents were without power and telephone service. It took nearly three weeks before North Arkansas Electric Cooperative was able to get power restored to all of its customers.
Here at KTLO and Classic Hits, we normally run cancellations during times of winter weather. Our lists generally indicate which businesses are closed. But during the ice storm, we read lists, albeit short lists, of businesses that were open. A check of our records indicates less than 10 businesses were open that Wednesday, the day after the heavy freezing rain.
We had staff members sleeping on cots and rotating shifts to pass information along 24 hours a day. For several days, we went for hours without playing music, just providing information about available help and where shelters were located for those who needed a place to stay.
Joe Bodenhamer was the Baxter County Judge at the time. He says looking back, the way people helped each other really stands out.

Listen:


Bodenhamer says when officials realized how devastating the damage was, they made sure all steps required by the Federal Emergency Management Agency were taken.

Listen:


Bodenhamer says the total price tag on the clean up in Baxter County was between $5-6 million.
Mel Coleman, CEO of North Arkansas Electric Cooperative, says officials there learned a great deal from the ice storm, including the fact you can never had enough supplies.

Listen:


Shelters were established throughout the area and kept open for weeks. Some schools were out for weeks. Many residents who rely on wells for their water were without due to power outages. Schools opened their doors to their gymnasiums and locker rooms so residents could come in and shower, while the National Guard delivered water to some areas for residents for drinking.
While the response was vast, the cleanup lengthy and the price tag steep, community leaders, officials and emergency personnel were to be commended in their response to the worst disaster to ever hit the area. It also marked a time when volunteers and residents wrapped their arms around those in need.
A number of businesses and organizations also showed gratitude to fire, police and emergency medical personnel along with electric, gas, telephone and cable T.V. repairmen with dinners and other acts of kindness.
WebReadyTM Powered by WireReady® NSI