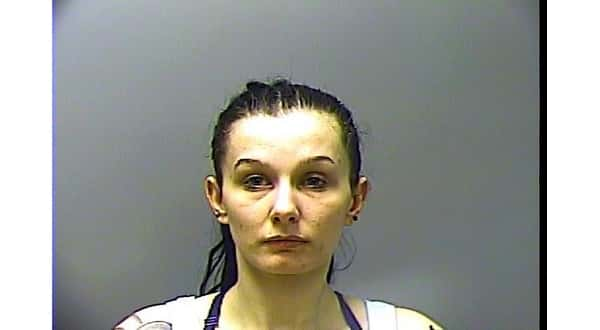 A Mountain Home woman appeared during a special session of Baxter County Circuit Court Wednesday and entered guilty pleas to charges in three cases filed against her last year.
Twenty-three-year-old Taylor Dewitt was put on probation for 10 years and ordered to enter and complete the addiction treatment program at Muskie Harris Rehabilitation Services in Little Rock.
She is to enter the program Feb. 13th. Until then, Circuit Judge Gordon Webb ordered Dewitt to be drug tested twice a week. If she fails a test or fails to show up for one, she is required to report to the Baxter County jail.
Dewitt was first charged in January last year after investigators with the Baxter County Sheriff's Office received a tip stolen merchandise could be found at a residence along Buzzard Roost Road.
A search warrant was obtained for the house. Officers reported finding Dewitt and two other females living there.
Stolen property, including a handgun and iPad, was found, along with a marijuana smoking device, two grams of marijuana, digital scales and small plastic bags. Other drug paraphernalia was found throughout the house.
According to the probable cause affidavit, none of the three women admitted to seeing the firearm or the marijuana and told investigators they did not know where the items came from or how they got to their residence.
Dewitt was arrested again in April 2018 when officers served a search warrant on a residence along West North Street in Mountain Home.
They reported finding two firearms, including a shotgun sawed off to an illegal length. In addition, methamphetamine, smoking devices, syringes, digital scales and packaging commonly used in the sale of drugs were also located.
In the last case, Dewitt was arrested and charged with participating with two males in a break-in and robbery of a convenience store and gas station along Buzzard Roost Road.
According to the probable cause affidavit, the owner of the business reported the break-in April 20th last year, saying cash, cigarettes and lottery tickets had been stolen. On the same date, law enforcement received a tip Dewitt and two males — 32-year-old Zachary Bales and 25-year-old Anthony Dechow — were responsible for the break-in at the business.
A search warrant was obtained for the residence in which Dewitt lived. Bales was also there when the warrant was served.
Dewitt is reported to have admitted she, along with Bales and Dechow, were involved. Dechow was named as the person who actually broke into the store. When he was questioned, Dechow admitted his part in the crime. He said he took about $700 from the store, but denied taking lottery tickets.
The three were reported to have gone to Dewitt's residence, where they split the money — with Bales receiving the largest cut.
During a court appearance in August last year, Bales was sentenced to 15 years in prison on a number of charges filed against him. Dechow was given a 10-year prison sentence for the convenience store robbery and for stealing a pickup truck. Both men are shown to be inmates in the Tucker Unit of the state prison system.
WebReadyTM Powered by WireReady® NSI