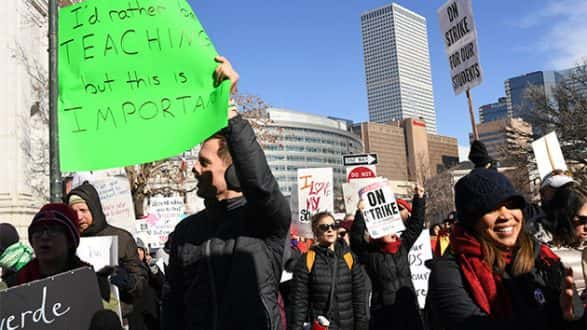 RJ Sangosti/MediaNews Group/The Denver Post via Getty Images(DENVER) — Thousands of public school teachers in Denver walked off their jobs on Monday and formed picket lines for the first time in 25 years to demand higher wages and stem the tide of educators they say are going to neighboring school districts to boost their pay.
Members of the Denver Classroom Teachers Association wearing "Red for Ed" T-shirts under or over bulky jackets kicked off their strike at 7 a.m. local time, forming picket lines around schools in the bone-chilling 21-degree weather and chanting, "If they won't pay us, shut it down."
"I'm anxious, scared, but I'm also angry and I think a lot of us are angry. We have had enough," Laurel Davis, a second-grade teacher at Bill Roberts Elementary School, told ABC affiliate station KMGH-TV.
The teachers' union broke off negotiations on Saturday after spending 15 months trying to come to an agreement with the Denver Public School District to significantly increase teachers' salaries to compete with surrounding school districts.
There are about 5,600 teachers who work at the district's 160 schools. It was unclear how many signed in at picket lines.
Students at least one school, East High School, shared a video with the Denver Post showing students blasting music and chanting in the hallways before walking out of the school.
"Certainly at our high schools, we have students that are very engaged, very active in expressing their opinions," Susana Cordova, superintendent of the Denver Public School District, said at a mid-morning news conference.
"There aren't a lot of kids left in the building," she said of the student walkout at East High School. "Certainly, a lot of commotion started when students decided to walk out."
She said the students will be marked absent unless they get permission from their parents to leave campuses.
Cordova said a negotiation session with the teachers' union has been scheduled for 10 a.m on Tuesday.
"It's my goal and my hope that we're as quickly as possible back with our teachers in classrooms," Cordova said. "I think that's the most important thing that we can do for our students, to be able to focus on instruction and get to the point where we've got a resolution to our contract."
School district officials claimed that only about 2,100 teachers called in absent on Monday, a number that was disputed by the union. Cordova said he visited about a dozen schools on Monday and saw some schools where there were there were "lots of teachers in the building" and other schools where there were few teachers on the job.
The Denver School District has hired hundreds of substitute teachers to keep classrooms open for the district's 92,000 students.
The union is proposing $28.5 million in teacher compensation while the school district's latest offer came to nearly $25 million. Union representatives say the district's offer ties raises to bonuses and credits for teachers who further their education or work in high-poverty schools.
"We feel like it's been a game they've been playing with us for months," said Davis.
For veteran high school math teacher Kathleen Braun, it will be her third strike in the Denver School district in 50 years. Braun joined teachers on picket lines in 1969 and again in 1994.
"What we're really talking about is, 'can a teacher work full-time and do what is necessary for our students?'" Braun told KMGH.
Union representatives claim that many teachers have to work extra jobs just to make ends meet, or leave the district for higher-paying jobs in neighboring school districts.
"We think it's important that DPS sees and knows and understands what it's like not to have teachers in the classroom every day because they need us," Rob Gould, lead negotiator for the teachers' union, said at a news conference Monday morning.
Henry Ramon, president of the Denver Classroom Teachers Association, said he hopes the walkout will be brief. The union plans to return to the negotiating table on Tuesday.
"We really need a cooling off period for both sides to come to the table with proposals that really benefit everybody," Ramon said Monday. "Bonuses have really proven ineffective and our students are paying the price of this experiment."
The average starting pay for teachers in Denver is $43,255. The union is asking that starting pay be boosted to $45,800.
Union representatives say starting pay at the neighboring Westminster Public School District is about $50,000.
"We're looking for a fair and reliable pay system that actually retains teachers in Denver," Gould said. "We've had a 20 percent turnover rate year after year. The district — they've been doubling down on these bonuses that are unreliable and they haven't supported student needs."
Cordova said the district's latest offer includes $2.5 million to boost overall teacher pay by cutting about 150 administrative jobs.
"We're at the point now where we have closed the gap because the district has brought more money to the table to be able to make sure that we are paying our teachers more in their base salaries," Cordova said.
"Over the next two years, we'll be cutting $20 million out of the central office to help pay for this proposal that we're working on for our teachers as well as the needs that we know for our bus drivers, people who are cleaning our buildings, and cafeteria workers."
Cordova said that under the district's offer, all teachers would get an 11 percent raise next year.
"Rather than sticking with it and figuring it out, I'm incredibly disappointed that they walked away," Cordova said of the teacher's union, according to KMGH-TV.
Second-grade teacher Jaimie Jackson said she'll stay on the picket line as long as it takes. She said she's not just doing it for herself and other teachers, but also for her young daughter and other children in the school district.
"I feel like I'm showing her what it means to stand up for what you believe in," Jackson told KMGH. "And I'm showing her what it means to do what you need to do to elevate your profession."
The Denver teachers' strike comes less than a month after 30,000 Los Angeles teachers went on strike for six days over funding and staffing at schools. The teachers approved a contract that hiked their pay by about 6 percent and achieved a commitment from the Los Angeles Unified School District to reduce class sizes over four years.
The teachers' strikes are part of a larger movement that started last February when West Virginia public school teachers went on strike for nine days before Gov. Jim Justice signed a bill granting a 5 percent pay raise to all state employees.
The West Virginia labor action was followed by teachers' strikes in Oklahoma and Arizona.
Copyright © 2019, ABC Radio. All rights reserved.