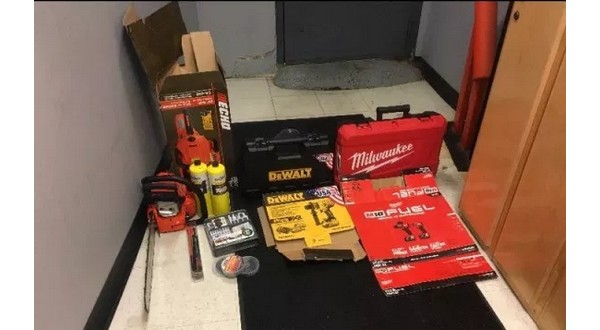 Photo: Courtesy of Harrison Police Department.
Three Harrison teenagers are accused of stealing from a Mountain Home business and a Harrison residence. Nineteen-year-olds Dylan Montgomery, Stephen Goings and Taylor Slechta were arrested Friday evening, booked into the Boone County Jail and released after posting bond.
According to Hometown Daily News, a Harrison Police sergeant received a call of three suspects heading west toward Harrison Friday at 7:18. Another patrolman stopped Montgomery, Goings and Slechta at the intersection of U.S. Highway 65 and Arkansas Highway 7 South, and took them into custody with the assistance of two more patrolmen.
The teens were allegedly in possession of items reported stolen from the Home Depot store in Mountain Home and items reported stolen from a Harrison residence.
Harrison Police Chief Chris Graddy says after transporting the teens to the police station and removing Goings from the patrol vehicle, Goings attempted to flee on foot after moving his handcuffs from his back to his front. He was quickly apprehended by the officers.
Montgomery was charged with a felony count of theft by receiving and released on a $3,500 bond. Goings was charged with misdemeanor theft by receiving, driving on a suspended license, driving without insurance, third-degree escape, third-degree battery and obstruction of governmental operations, and he posted a bond of $3,380. Slechta faces a misdemeanor count of theft by receiving, and he was released on a bond of $660.
WebReadyTM Powered by WireReady® NSI