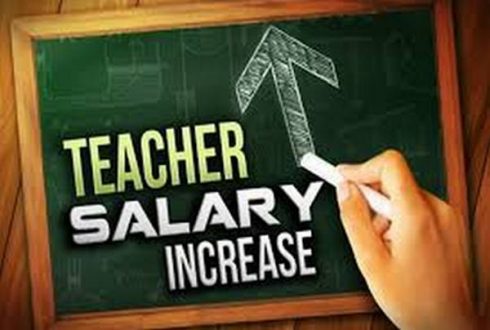 Gov. Asa Hutchinson signed legislation into law Monday afternoon increasing the state's minimum teacher salary to $36,000 over the next four years. The action addresses the long-standing issue of recruitment and retainment by making Arkansas's minimum teacher salary the highest among the neighboring states. Records indicate all of the North Central Arkansas legislative delegation voted in support of the measure
HB1145
that cleared the Senate Thursday on a unanimous vote. Passage of the new law will not impact 67 of the state's school districts, including Mountain Home and Salem, which are already paying more than $36,000.For the remaining 168 school districts, the amount of the deficit varies.
Information obtained by KTLO, Classic Hits and The Boot news from the Arkansas Department of Education indicates among local districts Cotter, Norfork, Calico Rock, Omaha, Valley Springs, Lead Hill, Searcy County, Jasper, Deer/Mt. Judea and the Ozark Mountain school districts will have to increase their base pay by $4,200 to comply with the new law, the largest deficit level. Other area districts are not far behind with Viola having a $4,000 deficit, Yellville-Summit $3,900 and Flippin $3,700.
For the remaining districts in North Central Arkansas, the ADE information indicates Mountain View's deficit stands at $2,974, Bergman's at $2,589, Izard County's at $2,500, Melbourne's at $2,200, and Harrison's at $1,320,
For the districts needing to increase their base, complying with the new law posses a challenge, despite the $60 million Gov. Hutchinson has called for setting aside to assist them in the transition over the next four years.
At Yellville-Summit School District, Superintendent Wes Henderson says just having emerged in 2017 from being on the state's radar due to its declining fund balance, the new law is a huge situation.

Listen:


Henderson says the remaining question is will there be additional state funding in the long term to meet the new mandate.

Listen:


Like Henderson, Cotter Superintendent Vanessa Thomas-Jones is hopeful the new legislation is just the first step in addressing public school funding.
Thomas-Jones says, from information she has received, state officials know the $60 million for the transition is a bridge and more funding will be needed from the state. She says House education committee Chairman Bruce Cozart of Hot Springs has publicly stated more funding will be needed.

Listen:


Henderson and Thomas-Jones stress their support for the increase in teacher compensation. Thomas-Jones says its exciting to see state officials make school funding a priority again. But she says it's clear districts will have to have long-term financial help.
WebReadyTM Powered by WireReady® NSI