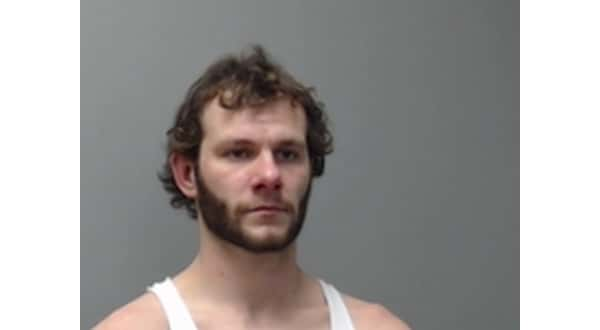 A man whose last known address was a homemade shelter in the woods entered a guilty plea to the charges against him in three active criminal cases during a session of Baxter County Circuit Court Thursday.
Twenty-seven-year-old Harvey Lee Honeycutt III was put on probation for six years and ordered into the addiction treatment program at one of the Community Correction Centers in the state.
During a court session Feb. 7th, Deputy Public Defender Mark Cooper who represents Honeycutt said his client had been accepted into a treatment program at Care Center Ministries in Mountain Home, but prosecutors had not decided if they would support the plan.
Prosecutors recommended Honeycutt undergo treatment at a Community Correction Center, and the court agreed.
The latest charges against Honeycutt were filed Feb. 1st. In that case, he is accused of taking a number of items from a home along Tucker Cemetery Road, where he had lived before being asked to move.
According to court records, when Honeycutt left the house on Tucker Cemetery Road, he was reported to have taken up residence in the homemade shelter in the woods adjacent to the victim's house.
According to the probable cause affidavit, the residents at the Tucker Cemetery Road home called the Baxter County Sheriff's Office Jan. 22nd reporting an unruly person -- identified as Honeycutt -- at the residence.
Honeycutt, who was said to be a family member of the female living in the home, was alleged to be cursing and kicking at the front door.
When a deputy arrived on the scene, he was taken to Honeycutt's crude campsite where uncashed checks totaling more than $3,200 were found, along with various items of drug paraphernalia, knives and tools, according to a news release from the Baxter County Sheriff's Office.
It was believed the checks had been removed from a mailbox. In addition, the victims reported Honeycutt had allegedly made off with a .22 caliber rifle belonging to them.
Honeycutt was not at the campsite when the deputy was there, but was arrested Jan. 24th when he showed up at the Tucker Cemetery Road residence.
In another case, Honeycutt was arrested Christmas Eve last year when Mountain Home police were called to investigate a suspicious vehicle sitting on the parking lot of a local business for a lengthy period of time with the engine running. When the officer located the vehicle, he saw it was occupied by two people.
When the officer pulled behind the SUV, it left the scene at a high rate of speed. The vehicle was pulled over a short distance away. Honeycutt, a passenger, and the female driver were questioned. Honeycutt was arrested and taken to the Baxter County jail, after he was observed breaking a glass smoking pipe on the floor of the passenger side of the vehicle. He was also found to have another smoking pipe, commonly used to ingest methamphetamine, in his jacket pocket.
He was charged with possessing drug paraphernalia.
Honeycutt's earliest arrest came in late September last year. Deputies took him into custody when they came to a Midway residence accompanied by an agent from a bail bond company looking for Honeycutt who had an outstanding failure to appear warrant.
Honeycutt and Samantha Laverty occupied the home. Laverty had been arrested earlier in the month on charges of felony battery of a child and endangering the welfare of a minor. The charges stemmed from serous injuries Laverty's 18-month-old daughter had sustained and were felt by medical professionals to have resulted from abuse.
The little girl also tested positive for methamphetamine in her body. The medical staff at Arkansas Children's Hospital in Little Rock reported the level of methamphetamine in the child's system was 150 times more than is required for a positive reading.
While Laverty denied using the drug, Honeycutt allegedly had five bags of methamphetamine in his clothing when arrested at the couple's home shortly after Laverty made her initial court appearance on the charges against her. Honeycutt is reported to have told officers he intended to sell the drug.
Laverty is scheduled to reappear in circuit court on her charges next month.
WebReadyTM Powered by WireReady® NSI