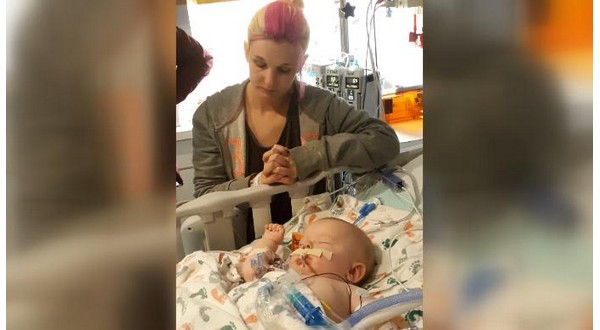 Photo: Courtesy of KYTV/KSPR.
Theodosia firemen are asking for prayers for a 6-month-old baby who was swept off a low-water bridge in Ozark County with his mother and her friend Thursday morning.
In a post on the department's Facebook site, firemen say, "This little guy is a fighter." The Facebook post links to a report from Springfield television stations KYTV and KSPR of the account of the near drowning.
The baby's mother, 30-year-old Casey Shelton of Ava, is thanking God for giving her the strength to swim her baby to safety.
The near drowning occurred before daybreak near Theodosia at Haskins Ford Crossing Thursday morning. The mother, her child, and her friend waited on help for hours suffering from hypothermia.
Shelton estimates they were waiting in the cold for about five hours after she managed to rescue herself and her son from the submerged car.
After freeing her son from his car seat, Shelton swam her 6-month-old child about 75 feet, in the dark, to the shore. In the frigid water, her muscles stiffened and she became exhausted.
As the sun came up, she continued to do everything she could to keep him warm.
Shelton says she just spent the whole time looking at him and trying to keep him alive. She says she ended up having to give him mouth to mouth because he was trying to die on her.
She and her friend, who was the driver of the car and had swam to the other bank, yelled for help.
When rescuers arrived, it wasn't looking good for baby Chaseton.
Allen Edgington, a volunteer with Theodosia Area Volunteer Fire Department, says he thought Shelton was holding a dead baby when they arrived.
Three helicopters also arrived to take the three patients to a Springfield hospital.
Among the rescuers were Dr. Aaron Newton, a medical doctor, who is also a Theodosia Area Fire Department volunteer. Dr. Newton says the patients were all showing signs of hypothermia.
The child was in the most immediate need of care.
Chaseton was put on a ventilator at the hospital. With his mother by his side, he is doing better than doctors expected.
Meanwhile, Shelton asks for only one thing for her baby boy.
The mother says she would like everyone to pray for her son, saying she would like to see him laugh again.
Shelton says she hopes her experience will lead to low-water crossing signs being posted to warn people about the potential danger at that bridge.
WebReadyTM Powered by WireReady® NSI