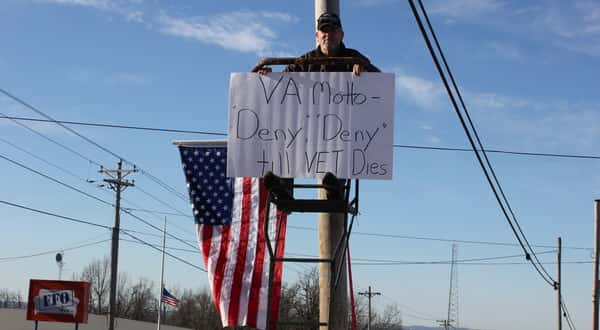 If you drive through downtown Mountain Home midday Thursday, you may notice a group of people gathered at the Mountain Home Plaza 2000. A series of protests has been organized over the lack of availability when it comes to local healthcare options for veterans in the Twin Lakes Area.
Near the end of January, the Department of Veterans Affairs announced new standards for access to care as part of the implementation of the Mission Act of 2018. The changes include appointment wait-time standards of 20 days and a 30-minute average drive time standard for primary care, mental health care and non-institutional extended care services. Other changes are appointment wait-time standards of 28 days and a one-hour drive time standard for specialty care from the date of request. Veterans unable to access care within those standards would be able to choose between eligible community providers and care at a Veterans Administration medical facility.
Ronnie Young serves as the commander for the Ozark VFW Post 3246, but separately, he has been one of the organizers of the local protests. He says President Donald Trump passed the Mission Act since the Veterans Choice Program was scheduled to expire last year.

Listen:


Young says the protests started in part because there are several veterans in the area without access to quality healthcare without spending nearly a third of the day in a van making a round trip to Little Rock for a medical appointment that might not even last a half hour.

Listen:


Young says the protests have resulted in some progress. Every other week, an official from the VA comes to Mountain Home to visit with local veterans, and there were some positive results as recent as last week.

Listen:


In the meantime, Young says protests will continue at the Mountain Home Plaza 2000 every Thursday from 11:00 until 1:00, and they are going to branch out farther. He expects to have protesters near the Community-Based Outpatient Clinic at the Twin Lakes Plaza and later extend to the local offices of U.S. Representative Rick Crawford and U.S. Senator John Boozman.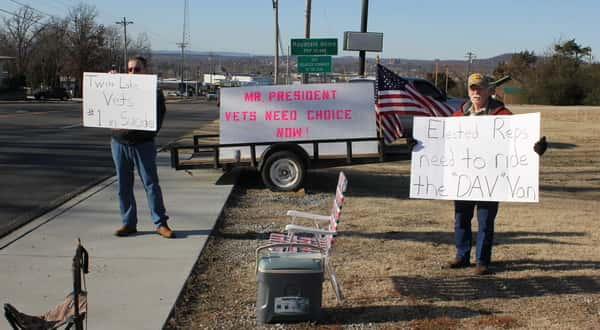 WebReadyTM Powered by WireReady® NSI