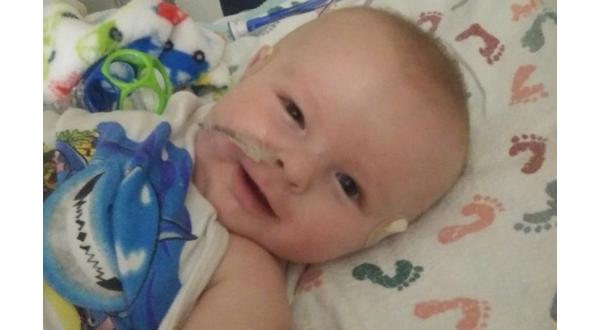 Photo: Courtesy of KYTV.
The 6-month-old baby who was in the back seat of a car swept off a low water crossing in Ozark County has been released from the hospital. KYTV reports the baby named Chaseton was released after being treated for hypothermia. The baby, his mother and a man in the vehicle spent several hours in wet clothing in sub-freezing temperatures after escaping their car and swimming to safety.
The incident happened last Thursday when the three were traveling on County Road 863 at Haskins Ford, just north of Isabella, attempting to cross the Little North Fork River, when their vehicle was swept away by the high water.
The baby was strapped in his car seat in the back of the vehicle. The man and woman were able to free the baby, as the car quickly filled with water, and then escaped the vehicle and swam to the shore on the south side of the river.
The couple saw lights on the north side of the river, so the man swam back across, but when he got out of the water, he was disabled by the cold and could not walk.
It was about three hours later when a farmer checking on his cattle spotted the man and called for help. Thornfield first responders arrived to tend to the man, while first responders were dispatched from Theodosia to assist the woman and baby on the other side of the river.
WebReadyTM Powered by WireReady® NSI