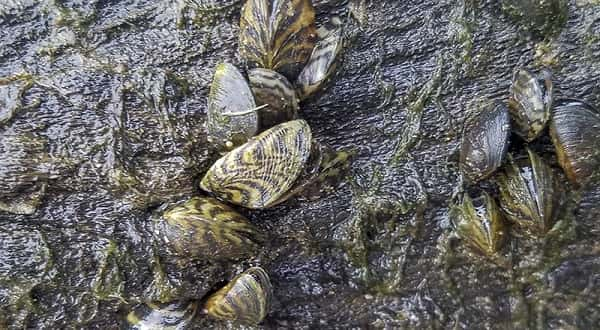 Last year, biologists with the Arkansas Game and Fish Commission's Fisheries Division confirmed the presence of zebra mussels in the portion of the White River just downstream of Bull Shoals Dam.
At the time, AGFC said zebra mussels are an invasive species, which can cause an extreme nuisance to fisheries managers by displacing native mussel populations. But the agency also said zebra mussels can clog infrastructure, such as pipes and valves in dams, boats and water-control structures.
Indeed, the mussels are now officially a costly nuisance for the Ozark Mountain Regional Public Water Authority. The Harrison Daily Times reports the water authority learned it has been approved for an $892,000 Emergency Community Water Assistance grant from the U.S. Department of Agriculture.
The grant has been secured to address an issue with zebra mussels making it more and more difficult to pump water out of Bull Shoals Lake for the 18,000 end users of the Ozark Mountain Regional Public Water Authority.
The authority provides treated water for households and businesses in a 460-square-mile area from a treatment plant in Lead Hill to Nail in Newton County and Canaan in Searcy County.
Andy Anderson, chairman of the authority, says the presence of the zebra mussels had no significant effect until 2016, when the authority was spending $11,800 a month for electricity to run the pumps.
In the 12 months from summer 2016 to summer 2017, the monthly bill jumped to $14,100 and to $16,600 in the following 12 months.
This year, the average electric bill for the intake pumps has been $19,400. The elevated bills are even after a 2018 operation when divers mechanically removed mussels covering 90 percent of the intake ports' surface area.
Grant funds will be used to remove the mussels inside the pipeline between the intake pumps and the treatment plant and clean shells out of the 1.3 million gallon clarifier. Stainless steel screens will also be replaced by zinc alloy ones. Mussels will not attach to the zinc alloy.
Plans also call for feeding Zequanox into the raw water to kill the larvae of the mussels. This will be the first Zequanox installation in Arkansas, a process proven effective in the Great Lakes region.
Work is set to begin in August or September.
Zebra mussels have been present in Bull Shoals Lake for more than a decade and saw a large population increase in 2014 and 2015. However, last year's sighting below Bull Shoals Dam was the first beyond the lake.
AGFC Trout Management Supervisor Christy Graham said last year it was unclear how the mussels will impact the trout population in the White River, but district biologists have not documented any negative effects on fish populations in the lake from the species.
WebReadyTM Powered by WireReady® NSI