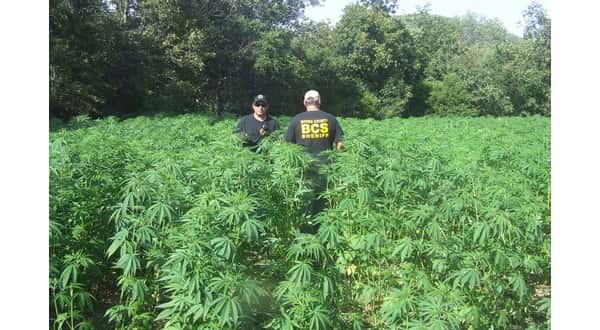 Photo: Courtesy Harrison Daily Times.
A marijuana grow operation with over 74,000 plants was discovered nearly 4 1/2 years ago in Boone County, and a Kansas man is now facing charges in connection with the operation. According to the Harrison Daily Times, 34-year-old Eddie Lamberd of Kansas City was officially charged with manufacturing marijuana and trafficking marijuana.
In mid-August 2014, law enforcement officers working marijuana eradication aboard a United States Army helicopter received information on a grow operation on Boat Mountain Road. Authorities spotted the marijuana patch, and several agencies descended on it. According to an affidavit, nearly 74,700 plants were removed with a total cargo weight of 6,820 pounds.
The plants were between 3 and 6 feet high and reportedly stretched as far as the eye could see on a ridge nearly 3 1/2 miles off Arkansas Highway 206. A large notch was cut in a tree near the patch, and a statue of the Virgin Mary was placed inside. Water hoses used to irrigate the patch were strung throughout the pasture leading to it.
There was a house on the property, police report no one was present at the time the plants were located. Records in the Boone County Assessor's Office showed the property was owned by Jerry and Elanna Lamberd, but it was transferred to the state in June 2014 for delinquent property taxes. State land officials say the Lamberds redeemed the property a month later with a back tax payment. Records show they remain as property owners and have been current on property taxes as of February.
Jerry Lamberd reportedly informed police his son Eddie had been staying at the property with two Hispanic males. Jerry Lamberd's brother Ronald told authorities he was living on the property full-time and was told by the Hispanic males to stay away from the field behind the residence.
Eddie Lamberd was booked into the Boone County Jail Feb.15th and released the same day after posting a bond of $150,000.
WebReadyTM Powered by WireReady® NSI