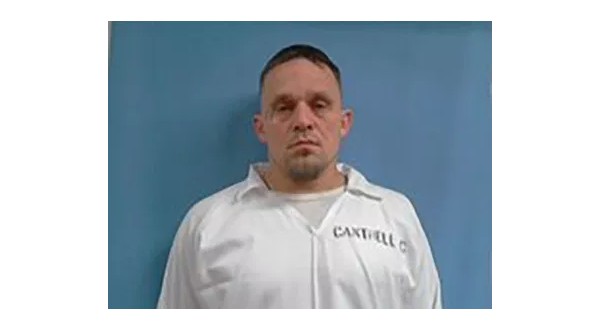 A Stone County man arrested last October for threatening the former boyfriend of a woman murdered in Izard County in 2004 has been sentenced to an eight-year prison sentence.
WhiteRiverNow.com reports 38-year-old Christopher B. Cantrell of Mountain View's prison sentence is in connection with a terroristic threatening charge.
Through a negotiated plea, charges were dropped for residential burglary, intimidating a witness, and interference with emergency communications.
Last October, WhiteRiverNow.com reported Cantrell was arrested for allegedly saying he would kill Justin Gullett, if he continued giving statements to law enforcement about the Stone County man's possible involvement in the death of 22-year-old Rebekah Gould.
Gould was killed in September of 2004 in Izard County in an unsolved case. Her body was found down a steep embankment off State Highway 9 near Melbourne. The discovery came a week after Gould was last seen alive at a convenience store in Izard County.
According to affidavits filed in Stone County Circuit Court, Cantrell went to the home Gullett shares with his wife, Mariah. When Mariah Gullett answered the door, Cantrell allegedly pushed his way into the residence and took her phone.
Justin Gullett was not home at the time. When Gullett did return to the residence, Cantrell confronted him regarding statements he made to law enforcement about Cantrell's possible involvement in the murder of Gould.
Mariah Gullett said Cantrell told her husband he would cut his throat and kill him if he continued making the statements. Another person at the residence also told investigators he witnessed Cantrell threaten to kill Justin Gullett.
Cantrell was given credit for 142 days spent in jail awaiting his plea bargain.
WebReadyTM Powered by WireReady® NSI