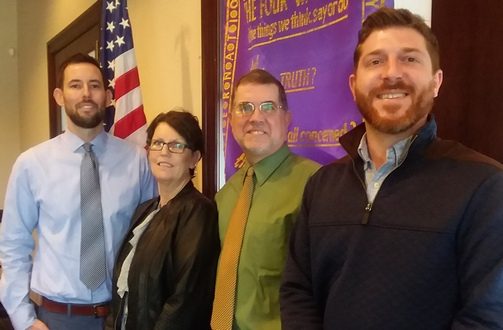 Photo: Plant Family Therapeutics representatives (from left) Clint Mickle, Linda McAnally, Jeff McAnally and Michael Lunsford.
Some members of the community got an opportunity Thursday to meet the family members who will be opening a medical cannabis dispensary in Mountain Home. Plant Family Therapeutics owner Clint Mickle made the company's inaugural community presentation during the Mountain Home Rotary Club's weekly meeting.
Joining Mickle were his mother, Linda McAnally, and her husband, Jeff, owners of M&M Landscape and Lawn in Izard County, and the company's executive director, Michael Lunsford. In addition to the family members, other owners include a Conway neurologist and a Fort Smith optometrist.
Plant Family Therapeutics is one of 32 dispensaries to be located around Arkansas in eight zones established by the state, with the idea of creating less travel time for patients in more rural regions of the state. The awarding of the dispensary licenses, as well as five for growing medical cannabis, follows Arkansas voters approving the state's Medical Marijuana Amendment in 2016.
After introducing his family members, Mickle said Plant Family Therapeutics is the result of a conversation over a holiday meal.

Listen:


Mickle who has a master's degree in public health said medical cannabis offers an alternative to the opiod epidemic taking hold over the last 10 years. He said he has seen patients struggling with chronic illnesses and diseases with no other option than synthetic pharmaceuticals. The cannabis alternative gave him a purpose that excited him.
The next step was to select a location for the dispensary. Mickle said Mountain Home was chosen for its demographics, including seniors and veterans, community support, the ability to attract young professionals and the location being close to home for the family from Izard County.
Then came securing the future facility home at 5172 U.S. Highway 62 East. Mickle said while they had hoped for site preparation to be underway, it has been delayed due to the recent weather conditions.
As the effort to construct what will be a facility Mickle describes as one with basically every inch monitored by cameras, he agrees the medical cannabis business is still developing.
At this point, 32 dispensaries are looking at sharing 7,726 patients approved by the Arkansas Department of Health as of March 7th, with Mickle saying about 400 cards have been issued in Baxter County.

Listen:


Mickle says company owners and investors are concerned about legislative efforts to curb the marketing of medical cannabis, but he wants to help people by educating them about their product versus a campaign. Likewise, a bill proposed early in the legislative session to expand the number of qualifying conditions allowing medical marijuana from 18 to 57 was defeated.
Mickle says while he was disappointed in the outcome, he also thought the effort was a little premature. He says the industry needs to get a little more under its belt. Then, he hopes to see the number of qualifying conditions expanded.
WebReadyTM Powered by WireReady® NSI