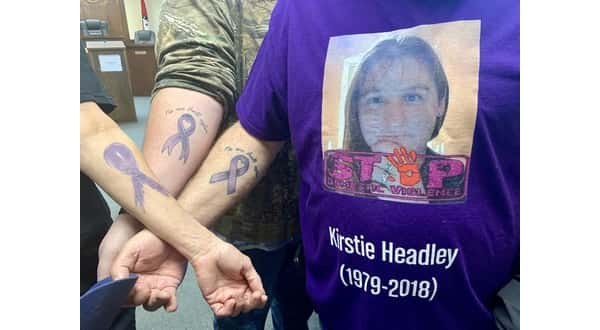 Photo: Three family members of Kirstie Dawn Headley display purple domestic violence ribbons following the Mountain Home woman's death in 2018.
Serenity Inc., Mountain Home's shelter and outreach service for domestic violence victims, honored Kirstie Dawn Headley this week, one year after she was stabbed at her workplace, allegedly by her estranged husband, and died a short time later at Baxter Regional Medical Center.
In honor of Kirstie Headley, who died March 14th, 2018, Serenity Inc. representatives requested the City of Mountain Home and Baxter County declare the anniversary date as Domestic Violence Awareness Day.
Mountain Home Mayor Hillrey Adams read a proclamation for the City of Mountain Home, while Trish Beck, assistant to Baxter County Judge Pendergrass, read and presented the county's document. Many of Kirstie Headley's family attended the events, including her parents, siblings, and extended members.
Serenity representatives remind domestic violence touches all age groups, genders, ethnicity and socioeconomic status.
For more information, contact Serenity Inc. at (870) 424-7576.
WebReadyTM Powered by WireReady® NSI