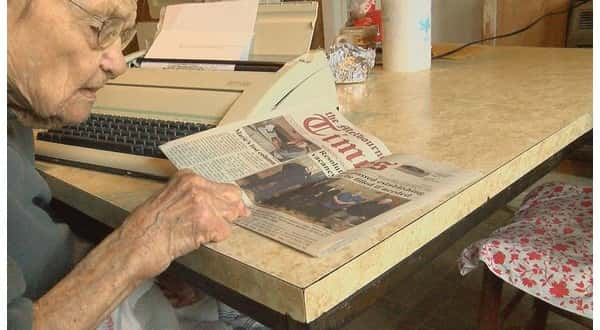 Photo: Courtesy of KAIT.
Izard County resident and journalist Marie Berryhill will celebrate her 92nd birthday this month and in February after falling and breaking her wrist decided it was time to unplug her electric typewriter.
KAIT reports Berryhill spent her life as a wife and mother, raising three children. But in her late 50s she took up a new career as a community news writer for the Melbourne Times.
For over 30 years, Berryhill dedicated her journalistic services to the Melbourne newspaper--for free.
Each week she sat at a desk and typed the local news in Violet Hill and Franklin on an electric typewriter.
She made calls to families in the community looking for the latest news or who was coming to town.
She would then type up what she had learned and mail it to the Melbourne Times every week.
Everyone who knows her always looked forward to her call.
Bertha Billingsley is a longtime friend of Berryhill and says the journalist called her everyday to get her news. Billingsley said  she "looked forward to Berryhill's calls, and she looked forward to hearing from me."
Berryhill says now that she's retired at 91, she intends to spend her free time on her front porch watching sunsets in the evening.
Asked what she will miss most about her job, Berryhill chuckles and says, "Being nosy."
WebReadyTM Powered by WireReady® NSI